If you are looking for some new pungent fall flavors to warm you up, try this delicious stir-fry flavored with Chinese 5 Spices and Hoisin Sauce!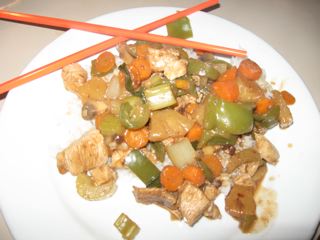 Ingredients
3 Tbsp Hoisin Sauce
1 Tbsp cornstarch
1 1/2 tsp. Chinese Five Spices spice mix
1 1/2 lbs. chicken – cut up in small pieces
2 Tbsp peanut oil
2 Tbsp chopped ginger
1 green onion (chopped; separate green from white parts)
2-3 small carrots, chopped in small pieces
3 stalks celery, chopped in small pieces
1 red or green pepper, chopped in medium pieces or strips
5-6 mushrooms, sliced
2 cups pineapple, cut in slices or chunks 
Approx 1 cup water or can use chicken broth for more flavor
2 tsp rice vinegar (optional)
Rice
Directions
1. Combine first four ingredients in a mixing bowl. Cut up all veggies and have all other ingredients close at hand.
2. Heat oil in wok or stainless steel skillet on high heat until it begins to "smoke".
3. Stir fry ginger and white parts of onion for 30-45 seconds
4. Add chicken and stir fry for 1-2 minutes.
5. Add hard veggies: carrot, celery – stir fry a minute or two
6. Add pepper, mushrooms, pineapple, and water or broth plus rice vinegar
7. Cover with a mesh screen and let steam for approx. five minutes. 
*If you don't have a mesh screen, use a lid, but let some steam escape out the side.
8. When veggies are cooked to desired tenderness and sauce is reduced 
down a bit take from the heat and let sit for a minute or so to encourage the sauce to set up a little.
9. Serve over rice 
10. Sit back and savor the flavors as you admire the beautiful fall colors!