I contacted Eric because I was concerned about my son's weight gain and general inactivity. As a 24 year old, I wanted him to have a healthier life style now that he was out of college and settling into real world life. He had gone to weekly workout sessions at our local health club while in high school but never really enjoyed it so much that he wanted to go on his own. Working with Eric in a private setting, has made all the difference. Eric has a reasonable common sense approach to working out, making good food choices and losing weight. My son has learned so much and now regularly counsels me. Eric is so positive and encouraging that my son has gained real confidence in his ability to reach his goals. He is pleased to be gaining strength and feels proud of his progress. Eric makes the sessions enjoyable so my son is happy to be there. As a parent, I couldn't be more pleased.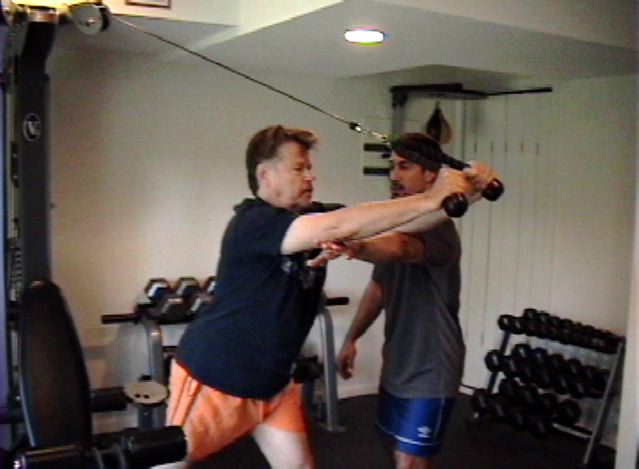 After several years of a sedentary lifestyle, it was time to "get in shape". Initially, I chose to work with Eric with the the goal of a rigorous workout regime. After a year and a half of Eric's training, we have developed a holistic program that recognizes both my strengths and weaknesses while providing achievable goals. This approach has allowed me to create physical consistency that I trust will last a lifetime. And, in case you're wondering, Eric will kick your a#! if that is your goal.
I worked with Eric to ensure I was using good form on the barbell training program I am using. Eric gave me great advice on form, and also advised me on several accessory exercises that I have incorporated into my lifting program. The shoulder stability exercises he showed me have been especially helpful, and my shoulders are feeling better and more mobile every week. On his advice, I have also incorporated more dumbbell work to my barbell work to target imbalances and core strength. Eric was great to work with and gave me lots to think about in designing my program, avoiding injury, and how to align my lifting routine with the broader goals of my life. In the 5 weeks since working with him I've made good gains in my "working set" weight for all of my major lifts (~30 pounds to bench, ~40 pounds to squat, ~50 pounds to deadlift, ~30 pounds to rows), and I've gained 2 pounds of muscle. I recommend him to anyone who is looking for guidance on how to live a healthier, fitter life.
In the time I trained with Eric, I gained a better understanding of my strengths (as well as what areas I need to work on!). Eric was also a font of knowledge regarding nutrition with an emphasis on pursuing a healthy lifestyle rather than fad diets. His holistic approach to health helped set me on the path to helping myself. I'm amazed at how much stronger I got in a short period of time. From weight lifting to sparring to pull ups, Eric put me through my paces. Thanks to Eric, I now know my physical limits are beyond anything I'd ever imagined.
Eric provided the right balance of nutritional guidance, strength and flexibility exercises and core training that got me on track. His approach kept me engaged and looking forward to each session. Any misconceptions I had about personal training were forgotten after the first few weeks with him.
I really appreciate everything you have taught me and helped me with. The better food choices you provided me has helped me lose more than 30 pounds, and I can actually feel muscle on my body rather than fat! I feel great.
My personal experience with diets had always been negative and after an umpteenth rollercoaster/fad diet failure in high school (many moons ago!) I swore I would never diet again. I was skeptical at first, but their weight management program made so much common sense that I decided, after all this time being anti-diet, to give it a try. The results have been quick and painless. It's a common sense solution to a common problem and, with Eric's help, I finally feel like I have the formula for success! It focuses on getting off the rollercoaster pattern of weight loss and gain, and emphasizes keeping the weight off for good! So far, I have lost over 20 pounds and am on track to lose 20 more. My energy level and self-confidence have greatly increased and I have Eric to thank for this! I do not hesitate to recommend Balance Personal Training to friends and colleagues. Thank you Balance!
It was a blast working with Eric! He's good natured, has a great sense of humor, and made my hour of training very enjoyable. Plus, knowing that I had an appointment with him helped keep me accountable. Under Eric's direction, I worked out harder, lifted heavier weights, and did more reps than I would have done on my own. He taught me proper technique and made sure that I was safe so I could get the maximum benefit without causing any harm to my back. I consider Eric an investment in my life and health, and I highly recommend him to others.
Hi Eric!! Thank you so much for your informative talk today. I have heard a lot of positive feedback, and I personally learned A LOT!! Thanks for all the excellent information!! I know a lot of people here in our office were concerned about there being "too much selling" in the presentation, but that definitely was not the case. If you need someone to vouch for future presentations, I'd be happy to do that for you!!
Working out with Eric was a treat, never a chore. I felt comfortable with him from the beginning. He's easy-going and friendly…always keeping things moving and making jokes along the way. The most important thing Eric helped me with was the understanding of nutrition and making proper food choices. Eric also introduced me to a variety of isometric and plyometric exercises which produce results, while limiting the risks of injury.
I hired Eric Foxman as my trainer from 2007 through June of 2008 to help me regain strength and agility and lose weight that I had gained due to a previous medical problem. When I first started, I could hardly stand up without holding onto something, and I had poor circulation. Eric was extremely gentle at the beginning of the training. His keen sense of observation along with his years of experience provided challenging and motivating workout as well as his great sense of humor. I don't know if I lost my weight from all the laughter or from the working out. I have lost over 20 lbs and am continuing to lose weight even though I have taken a break from training with Eric. I feel stronger and more flexible than I can ever remember. Most of all, my body feels great and I feel great about how I look. If you are looking for a great trainer, call Eric Foxman. He's the only one I trust.
I had such a blast working out with Eric! Above all else, he showed me what my body is capable of. I never knew how much weight I could lift until I met Eric! He wants you to be successful so he builds workouts tailored to specific areas you want to work on, and what equipment you have access to outside of his gym. I always looked forward to my sessions. Eric is funny, warm, caring, and encouraging, and makes working out a fun, positive experience. I highly recommend Eric as a trainer. He is extremely knowledgeable and will keep your mind off the burn with his extensive library of amusing stories!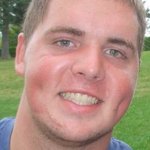 Eric is a class act, and completely changed my view on both exercising with a trainer and exercise in general. Eric's use of many different exercises kept me guessing but also made exercise fun and enjoyable. He always tried his best to gauge my fitness level with the heaviness of the weights and kept it so that it was a challenge for me, but it was not too heavy. Eric's first and foremost interest lies in the word and concept of "safety". Eric does his best to protect his client's existing state of health before trying to ameliorate their physical fitness. Workouts rarely ever get boring with Eric telling amusing stories on the side and his highly contagious sense of humor. Training for two months with Eric, I lost upwards of 10 pounds and gained more strength than I would have gained training by myself. If eating properly to start, I could have easily lost another five pounds. Eric is a true professional and I would highly recommend him to anyone looking to either get stronger, lose weight or both
When I lived in the USA, I hired Eric as my Personal Trainer and worked with him for a number of years. And to be quite honest, I wouldn't have worked with anyone else! I had alot of weight to lose (100+ lbs) and not alot of confidence, and Eric helped me a great deal. I found him to be patient and understanding. He also made a huge effort to make the workouts enjoyable and varied, to avoid boredom. Eric was knowledgeable about both fitness training and nutrition, which helped me a great deal. I learned so much, and that knowledge I still use today. All in all I wouldn't hesistate to recommend Eric to anyone looking for a Personal Trainer. Last but not least, he's a great and fun guy!!!
Our law firm was fortunate to have Eric Foxman of Balance Personal Training come to our office to talk to our staff about nutrition and overall health issues. As we strive to provide our employees with excellent financial and health insurance benefits, we found Eric's presentation to be informative and very useful. He made things easy to understand and even exciting. There is no doubt that having a healthy, happy staff has helped us provide better services to our clients. I would encourage any business to consider using Balance Personal Training as part of their wellness planning for their employees.
Thank you so much for coming in to speak to the 7th graders at St. Francis Xavier School. You were one of the best speakers that we have ever had. The house metaphor helped the kids understand the information. They loved your energy. I have highly recommended you to many people. Thanks again for your willingness to come in and speak on this important topic.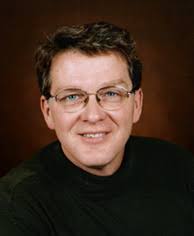 I have worked with several fitness trainers over the years and have found Eric to be one of the best I have worked with. Eric had a challenging job with me as he needed to work around and through recovering from a hernia surgery as well as several other injuries. Eric knew how to evaluate when it was time to push for recovery and when to avoid or back off certain activities and still get a quality workout. He also frequently had to switch out activities due to flair ups in previous injuries. He never skips a beat when asked to find a different activity that will hit the same muscle group. Eric's expertise is evident and he tailors the workouts around the individual needs. I highly recommend Eric to anyone looking for a fitness trainer.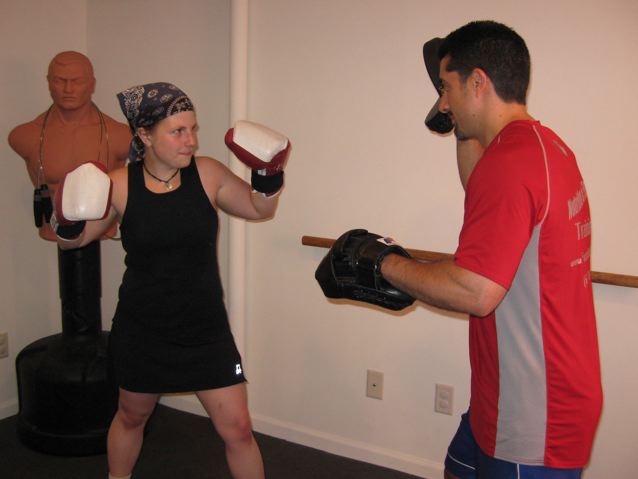 Eric has been fantastic to work with! He's extremely knowledgeable and great at personalizing every workout and making sure that I'm working toward my goals. He makes it fun and really gets to know you, offering awesome anecdotes and advice along the way. When I injured my hand at home, he was also fantastic at making sure that I wasn't hurting myself further during our sessions and worked hard to work with me around my injury. Eric has just incredible amounts of energy – which keeps things interesting and keeps me motivated! I highly recommend Balance Personal Training to absolutely anyone looking to get healthy, whatever their goals. Thanks Eric!
Eric kicks my arse on a regular basis – I dread going there but my fat arse needs it.
Eric is motivated, enthusiast and caring – which makes him an excellent personal trainer. He always goes the extra my by providing nutritional facts, healthy recipes and motivational materials outside of the gym setting. He is a natural communicator and takes the time to understand each of his clients needs. I highly recommend him.
I have been working out in gyms for 13 years and have tried all sorts of programs to get in shape and lose weight. I met Eric through a mutual friend and was impressed with his knowledge of fitness and health. I signed up for 10 sessions and immediately had results. That was almost a year ago. Since then I've lost 15 pounds and have gained strength, improved flexibility and muscle tone. I learned how to not over train and also eat healthier. I look forward to my weekly training sessions as Eric motivates me to work hard and keep improving. I highly recommend Eric to anyone who wants to achieve a healthy lifestyle.
Working with Eric was a fun and encouraging experience. He's great at keeping me motivated and very knowledgeable about what types of exercises would fit what I was looking to accomplish. My workouts were very focused, one-on-one, and high energy in a comfortable environment. Thanks Eric for helping me reach my goals and keeping me accountable…and reminding me to be good to myself too.
As an employer we're always trying to show our appreciation to employees in a meaningful and personal way. We invited Eric to conduct a workshop on health, resiliency and stress. WOW was it well received! The Big Brothers Big Sisters team truly appreciated the opportunity to gain knowledge and helpful tips on taking care of themselves.
I won a free session with Eric at a silent auction. Although it was only one session I learned a great deal. I was impressed with how fast and effective Eric was able to fit my needs. I am a runner and he instantly geared the workout to enhance my running performance. Eric showed me many strength moves that I can do at home and also many stretches that I feel will positively assist me in avoiding injury as I train for a half marathon. The session was very motivating and the time flew by! I also learned great tips for eating healthy and building strength . . . it was nice to hear it put simply rather then focusing on a "diet"! A very worthwhile session and I would recommend him to anyone!
Balance Personal Training has introduced us to a new vitamin line and customer service that has surpassed any we have experienced before. Combined with our regimen of exercise and healthy eating, at 40 and 47 years of age, we feel better than we ever have before. Thanks for the excellent customer service and quick turn around too!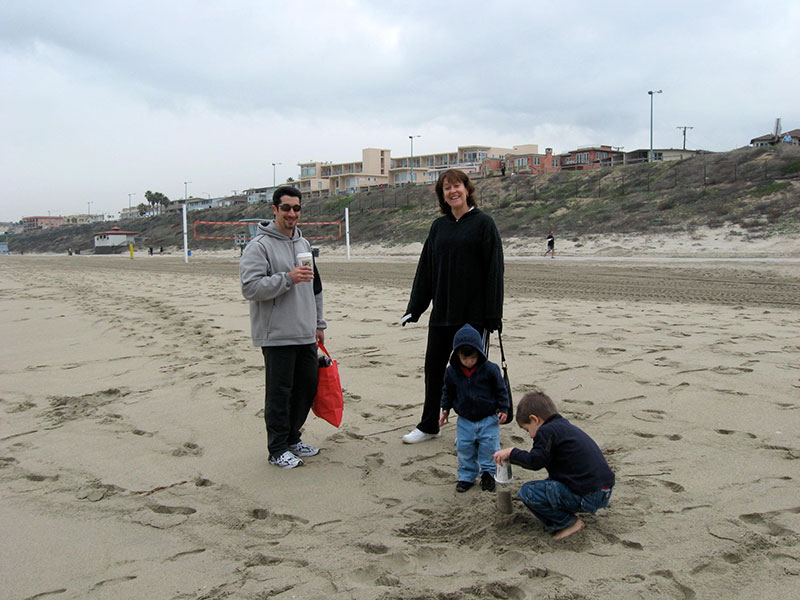 I recommend Eric to anyone wanting to be monitored and guided through a balanced exercise plan. He has great integrity and professionalism while making your training session fun! Not only was I trained by him but I observed him training a wide variety of individuals with fantastic results! Eric is the best trainer I have ever seen in my 27 years of weight training. Whatever your fitness goal, Eric can and WILL help you reach it!
Eric developed an effective plan for my physical health based upon my needs and lifestyle. His plan improved my strength and flexibility which allowed me to better function at work and push myself recreationally. Each time we met he would share some bit of knowledge or insight that continually improved the effectiveness of the workouts.
Balance Personal Training was able to provide our staff with numerous healthy snack alternatives as well as many other products. He does a great job of providing options and is extremely knowledgeable. It is nice to speak with someone who truly understands the benefits of the products he sells.
Thanks again!
At 71 years of age, I have worked with personal trainers before, and Eric is the best! He is patient, persistent and very encouraging. Soreness was a fact of life with other trainers. Eric incorporates stretching into the workout, not just at the end or telling you "be sure to stretch". I have never been sore after a workout and have definitely been worked hard. When I started with Eric I had a shoulder injury that was seven months old. I had gone to PT and it had gotten a bit better, but I was still hampered by it. Eric had me doing a set of shoulder exercises that were amazing! My shoulder is back to normal. I feel the occasional twinge, but basically can do everything I could before I was injured. I paddled a canoe recently for the first time in two years…I could feel a little something at first, but continued lightly and worked thru it. Never thought about the shoulder again and felt fine the next day! It is SO great and I owe it all to Eric's program!
Eric has presented Nutrition 101 for our leadership program for the last 3 years. Nutrition 101 is full of useful and practical nutrition information presented in a casual, non-intimidating way. His passion inspires others to make better food choices. Eric has been a favorite speaker of the leadership program and has earned a spot in the speaker line-up each year.