Meatball and Garbanzo Stew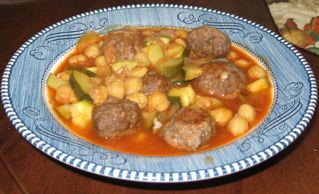 Ingredients
1 tablespoon vegetable oil**
2 large onions, cut in thin lengthwise slices
2 cloves garlic, minced or pressed
4 beef bouillon cubes
1 cup ketchup or chili sauce
1 teaspoon oregano leaves
6 cups cooked* or 4 cans (15 oz.) garbanzo beans, drained
4 medium zucchini, cut in 1/4 inch slices
Meatball Mixture
1-1/2 pounds lean ground beef
1 teaspoon oregano leaves
1 teaspoon salt
1/4 teaspoon pepper
(Mix all ingredients together.)
*2 cups dry makes 6 cups cooked.
**Omit oil if using non-stick cookware.
Directions
Roll meatball mixture into 24 equal balls. In a large saucepan or Dutch oven, heat oil over medium heat. Add meatballs; cook, turning, until well browned. Remove from pan with a slotted spoon. To the pan add onions and garlic; cook, stirring until limp. Add 2 cups water, bouillon cubes, ketchup, oregano and garbanzos. Cover and simmer 10 minutes. Return meat to pan. Add zucchini and cook just until zucchini is tender, about 10 minutes. Makes 9-1/2 cups. Recipe from California Dry Bean Board
You can follow any responses to this entry through the RSS 2.0 feed. You can leave a response, or trackback from your own site.