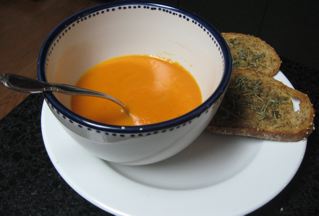 Salute the last of the fresh root vegetables dug out of the earth before winter's freeze, and cook up this comforting and savory soup.
Ingredients
1 1/2 cups onions, diced
1 tbsp olive oil
2 cloves garlic, chopped
4 cups peeled and sliced carrots
4 small redskin potatoes, chopped
2 tbsp ginger roots, finely minced (about 2 inches)
4 cups chicken or vegetable broth
Salt to taste
1 tsp paprika
1 tsp turmeric
Pinch hot curry powder
1/4 cup freshly squeezed orange juice
Half pint cream (or substitute 1 can coconut milk)
Directions
In a large pot over low heat, saute the onions and garlic in olive oil for about 4 minutes, allowing them to sweat but not brown. Add carrots, potatoes, ginger and broth (add coconut milk, if using) and simmer until carrots and potatoes are tender, about 20-25 minutes.
Puree soup in batches in the blender (we used a hand-held immersion blender) and return to pot. Add salt, paprika, turmeric and curry powder and stir in orange juice and cream (if using). Heat through but do not allow to boil. Garnish soup with roasted pumpkin seeds or big croutons.
Recipe by Emily Betz Tyra associate editor of Traverse magazine