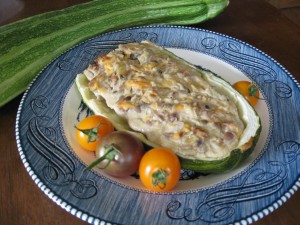 Heather prepared this vegetarian dish for dinner last night. Not only was it delicious, but many of the ingredients came from our garden.
Directions
Slice 3 medium zucchini (or summer squash) in half lengthwise. Scoop out insides, leaving 1/4″ rim so canoe stays intact.
Saute in butter:
chopped zucchini innards
1/2 lb chopped mushrooms
1 large yellow onion
1-2 cloves crushed garlic
2 Tbsp sunflower seeds
season with Rosemary, Basil & Thyme
Beat 3 eggs. Mix with 1 1/2 cups cottage cheese, 1/4 cup wheat germ, 3 Tbsp tamari sauce (or soy sauce), dash Worcestershire sauce, couple shakes of Tabasco sauce, 1 cup grated cheddar, 1 cup soybeans and/or brown rice. (We used a product called SooFoo which is a combination of long grain brown rice, brown lentils, wheat berries, oats, barley, black lentils, green lentils and buckwheat.) Add the sauteed vegetables.
Stuff the canoes generously. Sprinkle with paprika. Bake 40 minutes at 350 degrees.
Serve topped with extra grated cheese.
Preparation time: 1 1/4 hours, including baking. Serves 6
(Recipe from The Moosewood Cookbook: recipes from Moosewood Restaurant, Ithaca, NY)