Nonfat and just two grams of sugar, these refreshing and lightly sweet meringues are the perfect holiday cookie!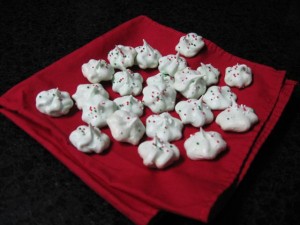 Ingredients
2 egg whites
1/4 tsp cream of tartar
1/8 tsp salt
1/2 cup sugar
1/4 tsp mint extract
3 to 5 drops food color
multicolored candy sprinkles, if desired
Directions
Heat oven to 200 degrees. Grease 2 large cookie sheets. In a small bowl, combine egg whites, cream of tartar and salt; beat at medium speed until foamy. Increase speed to high; add sugar 1 tablespoon at a time, beating until meringue is very stiff and glossy, and sugar is dissolved. Beat in mint extract. Fold in food color 1 drop at a time until desired color.
Use decorating bag or food storage bag with 1/2-inch hole cut in bottom corner of bag. Spoon meringue into bag; twist top of bag to seal. Squeeze bag to pipe meringue into 1-inch puffs onto greased cookie sheets. Sprinkle each with candy sprinkles. Place cookie sheets on center rack in oven.
Bake for 2 hours. Immediately remove cookies from cookie sheets; place on wire racks. Cool 5 minutes or until completely cooled. Makes 4 dozen cookies
Recipe from Pilsbury Holiday Cookies & Candies