Chicken cacciatore, chicken with green curry, chicken with spinach & pesto, chicken enchiladas, chicken with thai peanut sauce, and chicken pineapple stir fry. Over the past couple years, I've shared a lot of chicken recipes. So what else can you do with chicken? This weekend I made chicken marsala. I found two recipes on FoodNetwork.com courtesy of Tyler Florence and Emeril Lagasse. Then I made it my own. To say it was delicious is an understatement. The chicken was tender, and the sauce was rich and creamy. But was is healthy, Eric? The way I prepared it, yes. That's the great thing about cooking for yourself. You can make changes. Instead of 1/4 cup of cooking oil, I used 2 tablespoons. Instead of 2 tablespoons of butter (I saw other chicken marsala recipes that asked for 4 Tbs), I used 1. This was also the first time I cooked with Marsala, the English equivalent to Spanish Sherry. It has a nutty flavor and compliments the chicken and mushrooms. So here you go!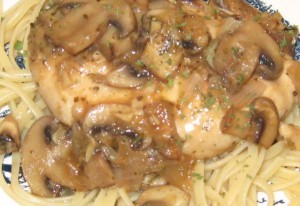 Ingredients
2 skinless boneless, chicken breasts (cut in halves and pounded thin)
All-purpose flour, for dredging
Kosher salt and freshly ground black pepper
2 Tbsp extra-virgin olive oil
2 cups sliced mushrooms (brown or porcini)
3/4 cup Marsala wine
1 cup chicken stock
1 tablespoon unsalted butter
1/4 cup chopped flat-leaf parsley
3 cloves garlic, diced
1 large onion, diced
Directions
In a shallow bowl or plate combine the flour, salt and pepper. Stir to combine thoroughly. Quickly dredge the chicken breast halves in the flour mixture, shaking to remove any excess flour.
Heat the oil in a large skillet over medium-high heat until very hot but not smoking. Add chicken breasts and cook until golden brown on both sides, about 3 minutes per side. Transfer to a plate and set aside. Add the mushrooms, onion and garlic. Cook, stirring frequently, until garlic and onion are tender and mushrooms are golden brown around the edges and have given off their liquid. Add the Marsala wine and bring to a boil, scraping to remove any browned bits from the bottom of the pan. When the wine has reduced by half, add the chicken stock and cook for 3 minutes, or until the sauce has thickened slightly. Lower the heat to medium and return the chicken breasts to the pan and continue to cook until they are cooked through and the sauce has thickened, about 5 to 6 minutes. Swirl in 1 tablespoon of butter. Add salt and pepper to taste. Garnish with chopped parsley and serve immediately.