Wraps are easy to prepare and make great substitutes to sandwiches. Today I looked in my refrigerator and just started pulling out ingredients. Lo and behold it turned into a delicious meal. So whether you call it a burrito or a wrap, I call it lunch. Enjoy!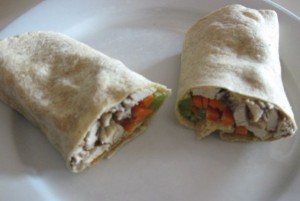 Ingredients
1 whole wheat tortilla or wrap
1 6-ounce boneless, skinless chicken breast, grilled and sliced
2 ounces organic carrots, peeled and thinly sliced
2 ounces organic celery, thinly sliced
1 tbsp homemade hummus (one of Heather's secret recipes)
1/3 cup cooked black beans (be sure to soak and rinse)
1 tsp lime juice
Directions
Warm whole wheat wrap or burrito in microwave for 30 seconds. This makes it pliable and easy to work with. Spread hummus evenly on wrap, then place chicken pieces in center. Add carrots and celery so that they are pointing in the same direction as the chicken. Spoon black beans on top and drizzle with lime juice. Carefully, roll tortilla up. Voila! Lunch is served!