We're all looking to eat more organic foods and add more veggies to our diet. So how about starting a vegetable garden? When we first moved to our home, Heather chose a plot in the backyard that was relatively flat, close to the house and received a fair amount of sunshine. We dug holes, put in the 12-foot posts and made the fencing with chicken wire. Then came the construction of the raised beds. Raised beds are a great way to reduce soil erosion and minimize weeds. Plus Heather has been able to expand her vegetable/herb garden by adding more beds. This year Bruce is excited to have his own 6'x6′ plot. In the next couple months he and Kyle will set up their vegetable stand by the side of our driveway. Last year they grew peppers, several kinds of tomatoes, green onions, corn and decorative gourds. It's been a great learning experience and a healthy one too!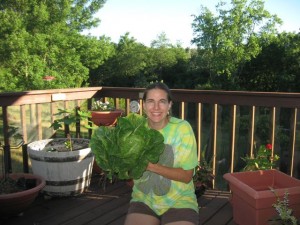 Heather shows off a head of romaine lettuce.
That's why she's called the Green Garden Gal.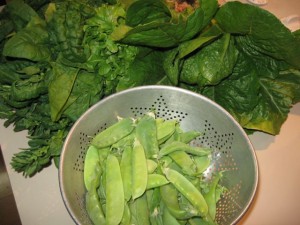 Snap peas, snow peas, spinach and romaine lettuce. Yum!