Scrambled eggs are easy to prepare, an excellent source of protein, and another way to sneak in those veggies. Best of all, this scrambled eggs recipes takes just 15 minutes. That includes chopping, whisking, cooking and clean up! Makes for a delicious breakfast or dinner. Enjoy!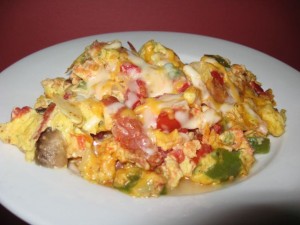 Ingredients
6 large eggs
1 cup mushrooms, sliced
1 small yellow onion, chopped
1 green pepper, chopped
2 Roma tomatoes, diced
1 ounce turkey pepperoni
1 ounce extra sharp cheddar cheese (Heather's favorite), grated
1 Tbsp olive oil
pepper to taste
Directions
Heat a nonstick frying pan over medium-high heat. In the meantime, chop the onion, pepper, mushrooms and pepperoni. Add olive oil to pan followed by chopped ingredients. Saute for 3-5 minutes stirring occasionally. Quickly whisk eggs in a bowl. Add grated cheese to scrambled eggs and add to pan. Cook 3-5 minutes stirring occasionally. Add chopped tomatoes and saute for 2 more minutes. Add pepper to taste. Turn off the heat and transfer to a plate when the eggs are still moist. Remember the eggs will continue to cook for a few moments after they're on the plate.
Serves 4 Foxmans.