With the anticipation of patchy frost this past weekend, we harvested the peppers and tomatoes. Much of the tomatoes were canned and some we used to make salsa. Heather combined a few different recipes and came up with her own. It turned out great!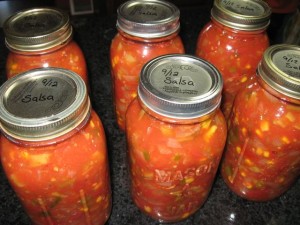 Ingredients
6 lbs tomatoes, chopped
3 lbs tomatoes, diced
7 cloves garlic, diced
3 lbs yellow onions, chopped
2 1/2 lbs green and yellow peppers, chopped
1/2 lb frozen corn
2 Tbsp chili powder (we used mild)
1 Tbsp garlic salt
*1 Tbsp canning salt
2 Tbsp ground cumin
1 1/4 cup cider vinegar
1/4 cup lemon juice
1 Tbsp lime juice
1 cup cilantro, minced
Directions
In a large pot, on medium-high heat cook 6 lbs chopped tomatoes and garlic. Keep lid off to evaporate some of the water. Stir occasionally. Mash mixture after approx. 15 minutes. Add onions and continue to cook for 15 more minutes. *Note: Since Heather was going to can the salsa, she started heating the water bath. To the mixture add the 3 lbs of diced tomatoes (that will help make salsa chunkier), peppers, corn, chili powder, garlic salt, canning salt, cumin, vinegar, lemon and lime juice. After 15 minutes, add cilantro. Turn heat to low while loading canning jars. Heather processed her quarts for 30 minutes. Please consult a reputable canning protocol for canning details. Yields 6 quarts.