I love when my kitchen smells of fresh baked bread, especially on a chilly December day. Instead of picking some up at the grocery store or my favorite bakery I looked through our recipe books for the one titled Bread: The Breads of the World and How to Bake Them at Home
by Christine Ingram and Jennie Shapter. It's beautifully illustrated and has bread recipes from all over the world. I chose the Grant Loaf recipe for two reasons:
1. It calls for whole wheat flour so it's hearty and healthy.
2. It requires no kneading and takes only a minute to mix.
Ingredients
12 cups whole wheat flour
1 tbsp salt
1 tbsp easy-blend dried yeast
5 cups warm water (95-100 degrees F)
1 tbsp brown sugar
Makes 3 Loaves
Note: I only had 6 cups of whole wheat flour so I halved the recipe.
Directions
1. Thoroughly grease 3 (in my case, 2) loaf pans. Sift the flour and salt together in a large bowl.
2. Sprinkle the dried yeast over 2/3 cup of the water. After a couple minutes stir in sugar and let sit for 10 minutes.
3. Make a well in center of flour and stir in yeast mixture and remaining water. The dough should be slippery. Mix for about 1 minute.
4. Divide among prepared pans, cover with oiled plastic wrap and let rise, in a warm place, for 30 minutes or until the dough has risen by about a third to within 1/2 inch of the top of the pans.
5. Meanwhile, preheat oven to 400 degrees F. Bake for 40 minutes or until the loaves are crisp and sound hollow when tapped on the bottom. Turn onto a wire rack to cool.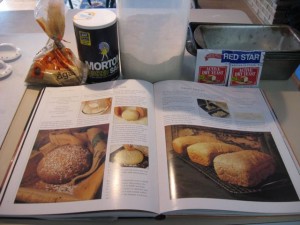 All of the dry ingredients.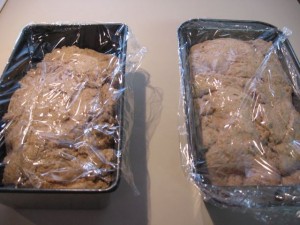 Loaves are resting.

Just out of the oven. Hurry up and cool down. I'm hungry!