If you're looking for a delicious, easy-to-prepare and healthy breakfast then try my high protein pancakes. Unlike traditional pancakes, which are made with flour, baking powder, milk, sugar, egg, salt and salad oil these pancakes are high in protein, fiber, complex carbs and omega-3s. As a matter of fact, I made them this morning in less than 20 minutes and the boys gobbled them up. Enjoy!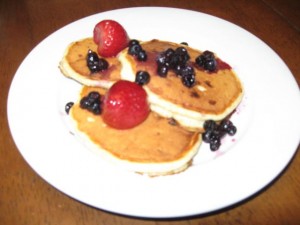 Ingredients
1/2 cup all-purpose flour
1/2 cup whole wheat flour
1 cup plain low or non-fat yogurt (I used Greek)
1 cup low or non-fat cottage cheese
2 tbsp ground flax seed
4 eggs
Directions
In a large mixing bowl, stir together the dry ingredients. Add yogurt, cottage cheese and well-beaten eggs; stir till combined. Bake on hot griddle at 325-350 degrees F until brown (approximately 4-5 minutes each side). Serve with your favorite fruit(s) or syrup. Makes about 20.