When it comes to healthy menu ideas, I focus on:
Flavor. Some workout gurus say food is just fuel. That's not me. I enjoy foods with aromas, scents and spices. As a matter of fact, I have over 60 different herbs and spices in my kitchen.
Easy-to-prepare recipes. Like you, I'm well-versed with a knife, whisk, peeler, blender and cheese grater. With those cooking implements I'm pretty dangerous.
A Budget. Whether you shop at Whole Foods, Willy Street Co-op, Copps or Costco, we're all on a budget. Over the years, we've trended towards fresh organic produce. Eric, isn't that expensive? That, of course, depends on what you buy when you're at the store.
So here's an easy-to-prepare, healthy and delicious meal under $10. It serves 8 — that's just $1.25 per person! Plus it's high in protein and fiber. Enjoy!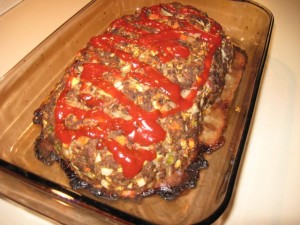 Ingredients
1 1/2 lbs ground beef (I used bison meat)
1/2 cup uncooked oatmeal
2 beaten eggs
1 8-ounce can organic tomato sauce
1/2 cup chopped yellow onion
1/2 cup chopped green bell pepper
1 tbsp dried thyme
1 tbsp dried marjoram
salt and pepper to taste
ketchup (optional)
Directions
Combine all ingredients; mix well. Shape into a loaf in your favorite baking dish. Bake at 350 degrees F about 75 minutes. At the 60-minute mark, squirt some ketchup on top of the loaf. This adds some sweetness. Return loaf to oven for remaining 15 minutes. Makes 8 servings.
Recipe modified from Better Homes and Gardens: New CookBook.