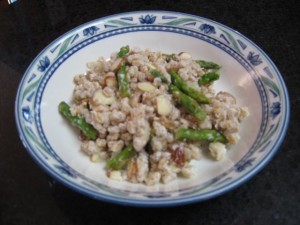 I was recently grocery shopping at Willy Street Co-op in Middleton with my 5-year old, Bruce. Next to the produce section they were offering samples of Lemon Farro Salad. We each tried some and it was delicious. As a matter of fact, Bruce asked for a second cup. . . and that disappeared just as quickly as the first one. Naturally, they had the recipe along with all of the ingredients. Was it going to be easy to prepare? Would it taste like their's? The answer was Yes to both. So if you're looking for something healthy, delicious and cool this summer, then try this salad.
Ingredients
16 oz farro
1 lb asparagus, ends snapped off and sliced into 2″ pieces
1⁄4 c olive oil
1 c almonds, sliced and toasted
4 oz goat cheese
2 lemons, zested and juiced
1 Tbsp walnut oil (did not use)
salt and pepper to taste
Directions
Bring a large saucepan of salted water to a boil. Stir in the farro and cook until tender, stirring occasionally, about 20 minutes. Drain well, place in a large bowl, and set aside.
In a large sauté pan, heat 2 tablespoons of the olive oil over medium heat. Add the asparagus in a single layer, and cook until crisp-tender, about 1-2 minutes. Drain and add to the bowl of farro.
Add the almonds, goat cheese, and lemon zest to the farro and asparagus.
In a small bowl, whisk together the lemon juice with the remaining 1/4 cup of olive oil and walnut oil. Add salt and pepper to taste. Pour over the salad and toss. Taste, and adjust the seasonings as necessary.
For more Willy Street Co-op recipes Click Here.