It's been a great year for growing peppers, onions, tomatoes, garlic and cilantro. Add some chicken and spices and we've got a great fajitas recipe. Enjoy!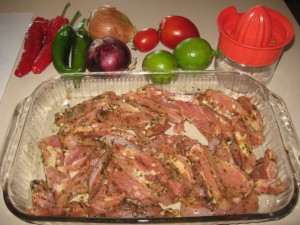 Ingredients
1 lb boneless chicken thighs or breasts, sliced
1 medium red onion, sliced
1 medium yellow onion, sliced
2 red peppers and 2 green peppers, sliced (these aren't spicy but have more of bite to them than your sweeter bell peppers)
2 tomatoes, chopped
2 medium limes (one for the juice and the other to go into a nice Corona)
3 tbsp canola oil
2-3 cloves garlic, diced
1 tbsp ground cumin
1 tsp ground coriander
1 tsp chili powder (use more or less depending on how much kick you want)
1/2 cup fresh cilantro, chopped
salt and pepper to taste
corn or flour tortillas
1 avocado, diced (optional)
Greek yogurt (optional)
Directions
To a bowl, add lime juice, canola oil, garlic, cumin, coriander, chili powder, cilantro, salt and pepper. Whisk to combine. Place chicken in a bowl or dish. Pour marinade over chicken and coat thoroughly. Cover and refrigerate from a few hours to over night.
Heat pan (or cast-iron skillet if you have one) to medium high. Add chicken pieces and cook until well-browned (10-15 minutes). Remove chicken from skillet and set aside. Add peppers, onions and tomatoes. Cook until slightly charred.
Serve plain or with your favorite tortillas. We also diced some avocado and added a spoonful of Greek yogurt on the side.