This Thursday most of us will be spending time with family, eating, drinking, watching football and being merry. Let's not forget what Thanksgiving Day is all about . . . giving thanks.
I want to start by thanking you for reading my blog, giving me feedback and sharing the posts. I've never been one to blog as a personal diary, make it a forum to vent or to share opinions not related to health and fitness. It is my ongoing goal to help you get in the best shape of your life by sharing easy-to-prepare recipes, safe and effective exercises, new fitness equipment, informative books and articles, and timeless tips and strategies.
I also want to thank my nutritional supplement customers. By buying Nutrilite products you are supporting organic farms and sustainable farming practices. When we've sat down face-to-face, spoken over the phone, or just emailed each other I assure you that I have your best interests at heart. Since I don't inventory products, I can suggest supplements that make sense for you versus what's sitting in the back room gathering dust.
Lastly, I want to thank my personal training clients. Even if you just trained with me for a week or we've been together for years, without you there would be no Balance Personal Training. As my saying goes, "Fun, safety and results. That's what personal training with Eric Foxman is all about." After 18 years of working professionally in the health and fitness industry, I can't imagine not training. It's how I live my life. It's how I move through the world. Thanks for giving me the opportunity to help guide you, teach you and go along the journey with you. Now please pass the cranberry sauce.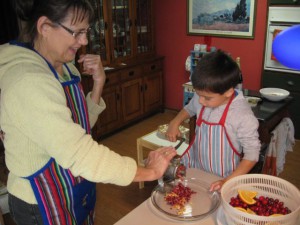 Grandma Becky and Bruce make cranberry-orange relish.