I think about my mom when I cook . . . which is every day. Sometimes I'll pick up the phone to ask her what she's preparing for dinner or get some recipe ideas. More than once, we've both made split pea soup on the same day. Like mother, like son. Split peas are inexpensive and easy to prepare. Also they are high in fiber, protein, potassium, magnesium and iron. So here's is Mom's recipe. Enjoy!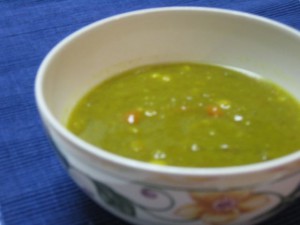 Ingredients
1 cup green split peas, sorted and rinsed
1 cup yellow split peas, sorted and rinsed
1 1/2 cups carrots, peeled and chopped
1 cup celery, chopped
1 medium yellow onion, diced
3-4 cloves garlic, diced
8 cups water
1 tbsp vegetable base or stock
2 tbsp curry powder
1/2 teaspoon cayenne pepper
salt and pepper to taste
2 tbsp olive oil
1 bay leaf
Directions
Start by sorting the split peas, and compost any "bad" ones you find. Next rinse the "good" split peas with water to clean off any dirt. Split peas don't have the same gas-producing sugars like some other beans, so you don't have to pre-soak them.
Heat a large pot over medium heat. Then add olive oil, chopped onions, carrots, celery and garlic. Cook for 5-10 minutes, stirring occasionally until vegetables are tender. Add the green and yellow split peas. Cover with 8 cups water. Add vegetable base then raise heat to high. Bring to boil. Lower heat to simmer and stir in the the curry powder, cayenne pepper, bay leaf and salt and pepper to taste. Cover and let cook for 90 minutes.
Serve as a main dish or with a meal.
Note: There's no need to puree or smash the peas as they will naturally break down during the cooking process.