After my son, Roy, was born last March, our friend, Natalie, brought over a homemade dinner. Heather and I had prepared and frozen several meals ahead of time, but I can't tell you how much we appreciated the extra help from our friends. The chicken enchilada soup was delicious, flavorful and hearty . . . perfect for a Wisconsin winter. Since then we have made it at least once a month. It's so easy. Prep time is less than 15 minutes. Then you just pop the ingredients in the crock pot, turn it on and you're good-to-go. Thanks again, Natalie!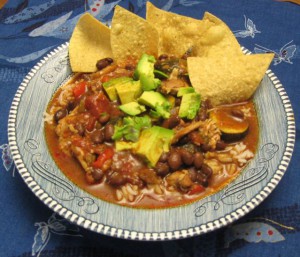 Ingredients
2 lbs boneless, skinless chicken breast and thigh meat
1 28oz can organic diced tomatoes, undrained
2 15oz cans "Kuners" already spiced black beans (chili powder and cumin), undrained
1 4oz can green chiles
1 12oz can "mild" enchilada sauce
1 large red bell pepper cut into chunks
4 medium zucchini cut into 1″ pieces
Directions
Place meat into a 4-6 quart crock pot. Cover with tomatoes, black beans, chiles, bell pepper and enchilada sauce. Cook on "low" for 8 hours or "high" for 4 hours. Add the zucchini on top with one hour left of cooking. That will keep them from getting too mushy. When soup is cooked, shred chicken with a fork before serving.
Serve with grated cheese, yogurt, sour cream, avocado slices or fresh cilantro.