Saturday's Client Appreciation Day was a big success! To express my thanks for their business and support, I invited clients to my home to enjoy a few homemade dishes, exotic cheeses, local beverages and fantastic weather. The bulgur salad recipe that my friend, Amy, emailed me was a hit. High in fiber & protein and full of flavor, this is a dish you can make for the whole family or bring to your next party. Enjoy!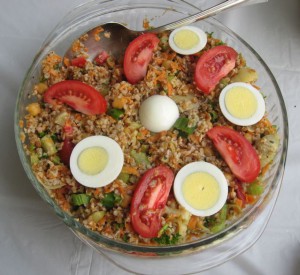 Ingredients for Salad
2 cups water
3/4 tsp salt
1 cup bulgur
6 oz jar marinated artichoke hearts (save marinade for dressing)
1 large carrot, shredded
2 stalks celery, thinly sliced
2 green onions, thinly sliced
1/2 cup parsley, chopped
1 hard boiled egg, sliced
2 medium tomatoes, sliced
1 cup chickpeas – aka garbanzo beans
1/4 cup green olives
Dressing
4 tbsp salad oil (we used olive oil)
4 tbsp lemon juice
1 tsp dried oregano
1 tsp dried basil
1/2 tsp black pepper
1 garlic clove, pressed or minced
1 tbsp Dijon mustard
marinade from artichoke hearts (approx. 4 tbsp)
Directions
In large pan, bring water and salt to boil. Stir in bulgur. Reduce heat, cover and simmer 15 minutes. Dice artichokes; set aside. To prepare dressing, combine all ingredients. Turn cooked bulgur into a bowl, add dressing and stir gently. Let stand until cool. Stir in artichokes, carrots, celery, olives, chickpeas, onions and parsley. Cover and refrigerate 2 hours or until next day. Garnish with eggs and tomatoes.