One of the things I aspire to is to cook like my mom. I have such fond memories of watching and helping my mom prepare meals in her kitchen. As I grew up, I became aware of how good her cooking truly was when my friends continued to ask to come over for dinner. Mom always had something simmering on the stovetop or baking in the oven. Nothing has changed. When I go home to visit, she is often in the kitchen (her domain), chopping, mixing, and stirring.
One of my absolute favorite dishes is her pancit recipe. She learned it from her father, who was born in Luzon, the largest island in the Philippines. Like all great chefs, she personalized the dish by adding her own personality. The dish is unbelievably simple and that is why I like it so much. Not a lot of competing or over-powering flavors. If you have never had pancit before, it can best be described as a Filipino chow mein or lo mein. Most pancit recipes that I have seen do not include garlic, and when I asked my mom why she added garlic to the dish, she just looked at me and said because she did. That's chutzpah in cooking. I love it! Enjoy!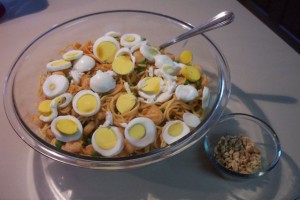 Ingredients
1 lb dry thin spaghetti
1.5 lbs shrimp (deveined with tail off)
2-3 tbsp peanut oil
3-4 cloves garlic, diced
1 yellow onion, chopped
1 tbsp lemon juice (or lemon wedges)
1/2 tsp salt
1 tsp paprika
1 cup frozen peas (this is not in Mom's original recipe)
Optional Garnishes
2-3 green onions, chopped
3-4 eggs, hard boiled and sliced
1/2 cup peanuts crushed, roasted and unsalted
1/2 cup bean sprouts
1/4 cup brown sugar
* Note: Mom's original recipe called for 1.5 pounds of sliced boneless pork shoulder. I did not intentionally leave it out. I just didn't have it in my freezer or fridge. So I made an adjustment.
Directions
1. Fill a 4-quart pot with water and set heat on high. Add a teaspoon of salt. Once the water is boiling, add the spaghetti. Be sure to stir noodles occasionally so they cook evenly and don't stick to the pot or to each other. Cooking time is approximately 9-10 minutes. When done, strain noodles in a colander and run cold water on top. This will stop the cooking process. Otherwise, the pasta will continue to cook and get overdone.
2. Because I don't like washing more dishes than I have to, I rinse and reuse the same pot. Place the pot on the stovetop, add peanut oil and heat on medium/high. Then add the onions and garlic. Stir continuously for two minutes.
3. Add the shrimp. Be sure to stir so they cook evenly. Once you see their gray color start turning pink (a sign that they are done), add the drained spaghetti back into the pot. (If you cook the shrimp longer, they will be overdone and feel rubbery.) Add paprika and mix thoroughly so the paprika coats the noodles and shrimp. Then add peas and reduce heat to low.
Serves 6.
Condiments can greatly affect this dish. Personally, I enjoy pancit with slices of boiled egg and crushed peanuts. Raw green onions add a nice kick to it. If you like green onions, just not raw, add them to the pot in step 3. For a milder flavor, scallions are a nice substitute. A sprinkle of brown sugar adds sweetness and nicely balances the green onions. Beans sprouts add a light and fresh crunch. Try a few garnish variations and let me know which is your favorite.