Last week I picked some kale from our vegetable garden. When I went back inside I realized that I had never cooked with kale before. What was I going to prepare? My wife suggested a kale chip recipe that she had recently been given by a friend. Problem solved.
I started by preheating the oven to 275 degrees F. I rinsed several kale leaves, patted them dry and removed the ribs. Then I cut the leaves into 2 inch pieces. Next I added them to a large bowl and drizzled some olive oil (1-2 tbsp) on top. I mixed the greens thoroughly so they were well coated. Finally I lay the kale on a baking sheet and sprinkled them with sea salt. The kale was baked for approximately 15 minutes and ready to serve.
Depending on your oven, you may need to vary the cooking time and temperature. For a little heat, you can sprinkle cayenne powder or red pepper flakes. The boys really enjoyed them, and I knew they were a hit when my youngest ate a small bowl full of kale chips. When he was done, he reached up to the counter for more and said "Chips." Enjoy!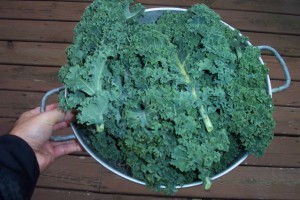 Freshly picked kale. If you plant kale late in the summer,
you can harvest it from fall until the ground freezes in winter.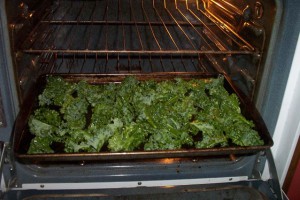 Kale is ready for the oven.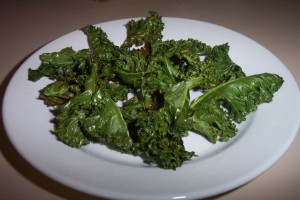 Voila! Kale chips are ready to eat.