My wife must have read my mind yesterday (after 20 years, this happens a lot) when she said that she was going to prepare paella. It's one of my favorite dishes and reminds me of Spain. The combination of spices, seafood, chorizo and peppers is out of this world. Our go-to recipe book for paella is Perfect Mediterranean
. Simple and easy-to-follow steps, this recipe requires a fair amount of prep time and stirring during the cooking process. The results are well worth it. Enjoy!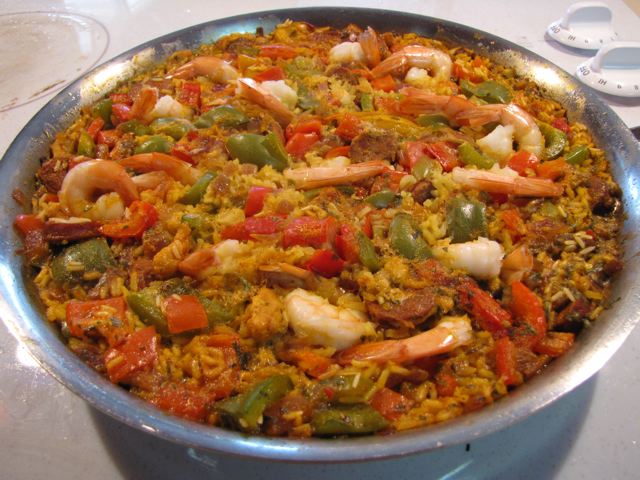 Ingredients
5 1/4 cups fish stock or water
12 large raw shrimp, in their shells
1/2 tsp saffron threads
2 tbsp hot water
3 1/2 ounces boneless, skinless chicken breast, cut into 1/2 inch pieces
3 1/2 ounces pork tenderloin, cut into 1/2 inch pieces
3 tbsp olive oil
3 1/2 ounces chorizo sausage, casing removed, cut into 1/2 inch pieces
1 large red onion, chopped
2 garlic cloves, crushed
1/2 tsp cayenne pepper
1/2 tsp paprika
1 red bell pepper and 1 green bell pepper, seeded and sliced
12 cherry tomatoes, halved
1 1/2 cups medium-grain paella rice
1 tbsp chopped fresh parsley
2 tsp chopped fresh tarragon
salt and pepper
Directions
Put the stock in a pan and bring to a simmer. Add the shrimp and cook for 2 minutes, then transfer to a bowl and set aside. Let the stock simmer. Put the saffron threads and water in a bowl and let infuse.
Season the chicken and pork to taste. Heat the oil in a pan (paella pan if you have one) and cook the chicken, pork, and chorizo over medium heat, stirring, for five minutes, or until golden. Add the onion and cook, stirring, until softened. Add the garlic, cayenne pepper, paprika, and saffron and its soaking liquid and cook, stirring constantly, for 1 minute. Add the bell peppers and tomato halves and cook, stirring for 2 minutes.
Add the rice and herbs and cook, stirring constantly, for 1 minute to coat. Pour in about 5 cups of the stock and bring to boil, then simmer, uncovered, for 10 minutes. Do not stir during cooking, but shake the pan once or twice, and when adding ingredients. Season to taste and cook for 10 minutes more, or until the rice grains are plump and almost cooked.
* Note: We used a large stainless steel skillet since we do not have a paella pan. Because of this, cooking takes a little longer.
Add a little more stock if necessary. Add the shrimp and cook for 2 minutes more.
When all of the liquid has been absorbed and you detect a faint toasty aroma coming from the rice, remove from the heat immediately. Cover with foil and let stand for 5 minutes. Serves 4-6.