Meat. Do ever just have a craving for meat? Juicy, mouth watering. Just thinking about it brings out the carnivore in me. As I have stated countless times, I literally feel awesome after eating meat. It's hard to describe, but if you exercise, do sports or lift weights, you know what I mean. In addition to being an excellent source of high quality protein, it is rich in B-6, B-12, Iron and Potassium.
The other day I had a hankering for some meat and took a 3-pound Sirloin Tip Roast out of the freezer. After defrosting it, I checked out a couple recipes online that were easy to prepare and delicious. Thanks to AllRecipes.com the herb rub recipe won out. I didn't follow it to a T but adjusted the amounts of herbs and spices to suit my taste. The original recipe looked pretty heavy on the paprika and salt. In addition, I didn't have any thyme but used marjoram instead. So what you see below is my "adjusted" recipe. Enjoy!
INGREDIENTS
1/2 tablespoon paprika
1/2 tablespoon kosher salt
1/2 teaspoon garlic powder
1/4 teaspoon ground black pepper
1/2 teaspoon onion powder
1/4 teaspoon ground cayenne pepper
1/2 teaspoon dried oregano
1/2 teaspoon dried thyme (When I opened my herb/spice drawer, the bottle of thyme was empty. So I used dried marjoram instead)
2 tablespoons olive oil
3 pound sirloin tip roast (you can use any roast you like.)
DIRECTIONS
I started by mixing the dry ingredients in small bowl.
Then I stirred in the olive oil and let the mixture sit for a few minutes.
After preheating the oven to 350 degrees F, I lined a baking sheet with aluminum foil. The roast was placed on the prepared baking sheet and covered on all sides with the spice mixture.
Cook roast for 1 hour in the preheated oven or to a minimum internal temperature of 145 degrees F. Let roast sit 15 minutes before slicing.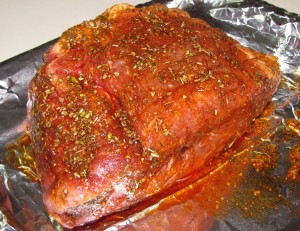 Roast covered with herb & spice mixture.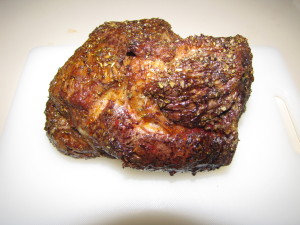 Roast is done. Time to let it rest.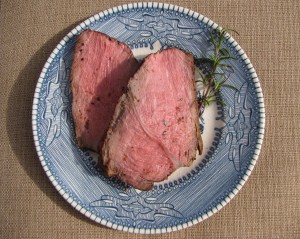 Two delicious slices ready to eat.