Twenty-one months ago, I received an email from a prospective client named Nate. He said that he had two fitness goals related to the practice of his martial art, Northern Style Kung Fu. First was to improve flexibility so he could perform front splits (right and left) and possibly side splits. The second was to increase strength to aid in the combat sport of Lei Tai. He described Lei Tai as "the Chinese full contact version of MMA (mixed martial arts)." He felt that his endurance was good but just didn't have enough upper body strength. Drum roll please . . . Mission accomplished.
I can't say enough about training with Nate. He is patient, open-minded and hard-working. In addition, he welcomes constructive criticism, arrives early and never misses an appointment. What a winning attitude! Nate continues to make great strides in his fitness and I look forward to his weekly workouts. And without further ado, here's his testimonial.
Eric is exactly what I needed to take my workouts to the next level. He's not afraid to roll up his sleeves and customize training to increase my strength and flexibility for the martial arts I practice. I have had some lower back problems in the past, and Eric makes sure to put safety first in every session. Furthermore, he's taken my non-existent bachelor cooking skills and turned me into someone who cooks dinner on a regular basis. Eric doesn't quit when you leave your training session; he helps you make adjustments and live a healthy lifestyle. I have fun and look forward to seeing Eric each week. -Nate G, Madison WI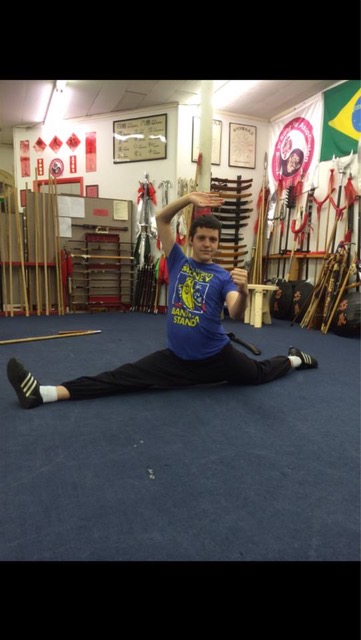 Nate performing the splits.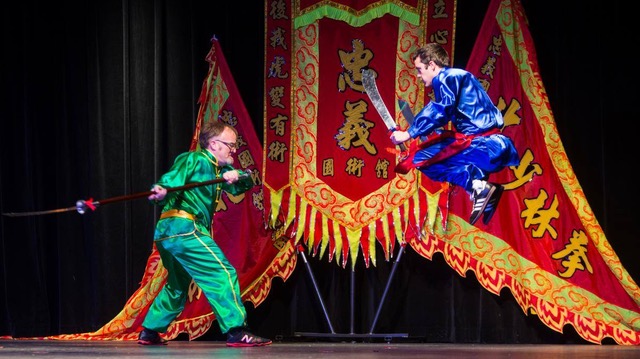 Nate leaping in the air at a martial arts demonstration.