Hopefully my attempt at alliteration grabbed your attention. Did it work? Then let's get down to business. How do you roll when it comes to Japanese sushi? Nigiri, maki, temaki or sashimi? For me it's sashimi every time. Why? What's the difference? Let's start with nigiri sushi. From the word "nigiru", which means "to grasp/grip", nigiri sushi has a block of vinegard rice on which the raw fish sits. The formed rice makes it easy to pick up with your hand or chopsticks. Maki sushi, from "maku", which means "to wrap/roll", is wrapped in seaweed (called "nori"). These rolls don't always contain raw fish. Vegetables (raw or cooked), tofu, avocado, cucumber, grilled egg and cooked chicken are common ingredients. Temaki, meaning "hand-rolled", is generally cone-shaped with the same ingredients as other sushi. My personal favorite is sashimi. Meaning "sliced body", sashimi is the fish from nigiri sans rice. It's pure, clean, unadulterated and simplistic. And just to let you in on a not-so-secret secret, sashimi is considered the finest dish in Japanese formal dining by many Japanese chefs.
Sashimi is not masked with competing or overwhelming sauces and marinades. And this might sound like something you've heard from a food blogger or TV travel host, but you can really taste the ocean where the fish once swam. Plus I always leave satisfied. Never bloated. Compare that to a Friday fish fry? Sorry folks, but it's not even on the same spectrum. Without getting too personal, my body was clearly not meant to ingest fish, or any food for that matter, that's been battered and deep fried. Why? Gas, gas, gas. If I am going to eat fish from the Great Lakes (like perch, whitefish, salmon or walleye), then lightly sautéed or a quick grill is the way to go.
For you foodies who like to be filled, I've noticed that some sushi chefs slice larger pieces of fish for sashimi than for nigiri. Or maybe it's just because I often sit at the bar watching intently and intensely, drooling and generally looking really hungry. Over the years I have developed a greater appreciation for fish. Some fish are firm, flaky or soft. If you have had sushi that smells or tastes fishy, then the fish is not fresh. Get your money back. Same thing if the fish is overly chewy, stringy or tough. It's old. Clearly not all fish have the same chewiness. Take squid, for example. You definitely need to use more of your molars.
Omakase or "chef's choice" is by far the best way to go to experience sashimi. Why? You are asking the chef to show off his talent and do his best to give you the freshest fish of the day. A good bet is the sushi chef was at the fish market that morning and personally hand-picked the seafood.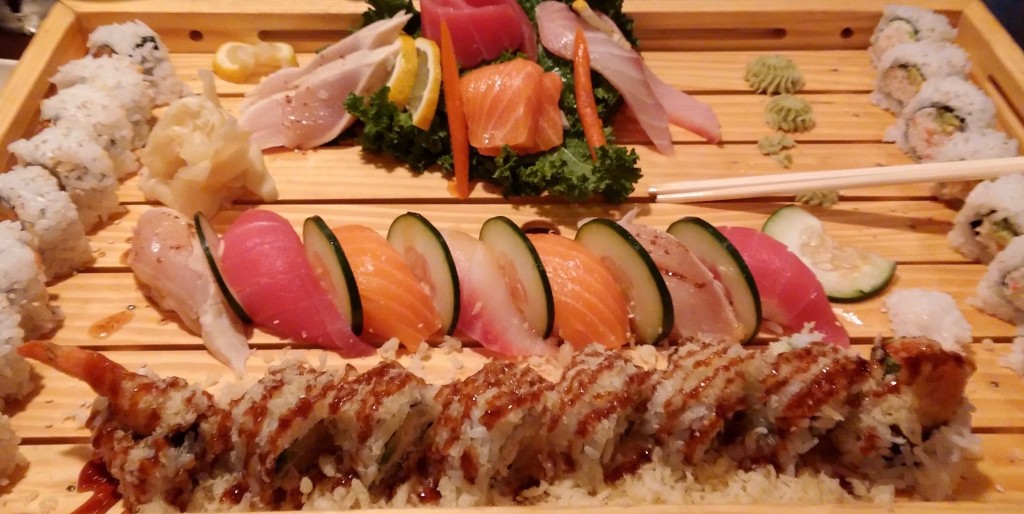 Eric, what about the health benefits? You haven't talked about protein or Omega 3s. Click here for Sashimi Nutrition Facts. If you're too lazy to click on the link, I can sum it up by saying that the majority of fish served contain 6-7 grams of protein per 1 ounce serving. So yes, Ken, we have ingested over 150 grams of protein from fish in a sitting before. And it was all delicious.
What are your favorites? Blue fin tuna? Yellow fin tuna? Albacore? Mackerel? Spanish mackerel? Salmon? Shrimp? Clam? Yellow tail? Sea eel? And for dessert? Freshwater sea eel. You know what I'm talking about.
So where should you go for excellent sushi in Madison? The answer is easy. Muramoto at Hilldale Mall. The fish quality is top notch. Always fresh. Try to avoid busy times if you can. They do a huge business when it comes to take-out, so your order will be competing with a lot of pick-ups. Their service is good too. The servers are knowledgable and friendly. Although again when it is busy, they can become a little frenetic. But what do you expect at 6pm on a Saturday right? The last time I was there, I sat at the bar ordered a Sapporo and some edamame. It might feel a little intimidating at first to sit at the bar, but part of the whole gastronomical experience that most people miss, in my opinion, is watching the chef prepare the food followed by the presentation. Watch how the chef slices and prepares the fish, lays them gently and precisely on sliced Asian white radish and/or single leaves of the Shiso herb. If you want to show your appreciation to the chef, buy him a beer or some sake. Wasabi and pickled ginger (both are antibacterial) are a must. In between the different fish, eat some ginger. It cleanses the pallet and soothes your stomach. If you feel a little carbohydrate-deprived, don't worry. A bowl of white rice very often accompanies the meal.
Are you getting hungry? I sure am. So the next time you're thinking fish on Friday, think seafood and think sashimi.