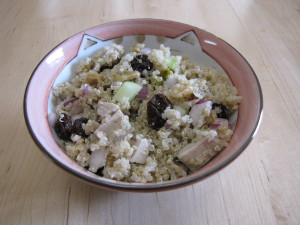 The July 2017 magazine The Costco Connection featured a healthy and delicious quinoa recipe that reminded me of Thanksgiving stuffing. Since we had just picked up a 4.5 lb bag of organic quinoa, I thought we should give it a try. Why quinoa? It has nice flavor, it's easy-to-prepare and is high in protein. To suit our palettes and to feed a ravenous family of five, I modified the recipe. So here you go!
Ingredients
2 cups quinoa
4 cups water
1 lb grilled chicken, chopped (I used boneless thigh meat which was grilled with poultry seasoning and dried thyme.)
1 cup dried cherries
1 cup celery, diced
1 small red onion, minced
1 cup toasted walnuts, coarsely chopped
garnish with fresh thyme (optional)
Dressing
1/3 cup olive oil (extra virgin if you have some)
1/3 cup white wine vinegar
Fresh ground black pepper, to taste
The recipe also called for 1 tsp of sugar and minced garlic which I omitted. I felt that the white wine vinegar and cherries would add enough sweetness (which they did) and raw garlic has a tendency to make me burp.
Directions
Rinse and drain quinoa in a strainer. Bring water and quinoa to boil in medium/large saucepan. Reduce heat and simmer, covered, for 12 minutes. Then add chicken pieces, cherries, walnuts, celery and minced onion. [This is a change from the original recipe that calls for adding the chicken, cherries, celery and onion after the quinoa has cooled. I wanted to slightly rehydrate the cherries and warm the celery and onions so their flavor was milder.] Mix well and let stand for 10 minutes. Fluff with fork and let cool.
Place the cooled quinoa mixture in a large bowl. In a separate bowl, whisk together olive oil, white white vinegar and black pepper. Pour over salad. Toss well to coat.
Ready to serve, eat and enjoy!