Healthy recipe ideas often come from friends, family members, cooking magazines or just doing searches online. Yesterday my wife read Little Red Riding Hood by Lisa Campbell Ernst to our 4 year-old, Roy, for the umpteenth time. It's a fun adaptation of the story I remember as a child. In this version, muffins play a significant role. And as luck would have it, there is Grandma's Wheat Berry Muffins recipe conveniently placed at the end of the book. Heather and Roy took to the task of following the recipe while making some changes along the way. Primarily reducing the amount of sugar and fat. As Official Taste Tester of the Foxman household, I had to try one as soon as they came out of the oven. Fantastic! Unlike so many muffins you get at the grocery store or even some bakeries, these were not super sugary. The fresh blueberries offered the perfect amount of sweetness. The wheat flour added a nice hearty flavor and what I like to call "chew factor". The sunflower seeds were the biggest surprise. They gave the muffins a nice texture and buttery flavor as I thoroughly chewed each bite. Very satisfying. Lastly, what made this muffin recipe a success for me was that my GI system did not react negatively. No bloat and no gas. Fortunately or unfortunately, my system is quite sensitive to oily and fatty foods. I guess that's helpful for weight management. Another lastly, is that these muffins were the perfect size. When it comes to treats, don't you just want a taste anyhow? Not an entire bowl or plate full. This recipe gets two thumbs up and I hope you give it a try!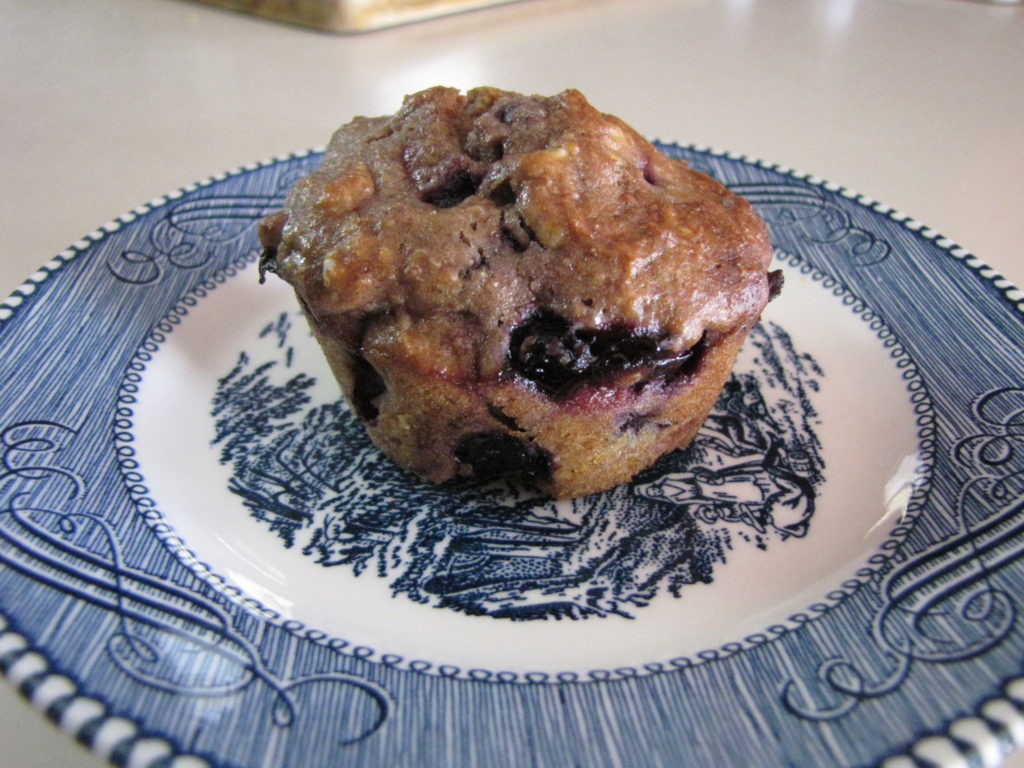 Ingredients
2 eggs
1/4 cup melted butter
1/4 cup organic applesauce
3/4 cup brown sugar
1/2 tsp almond extract
1 cup wheat flour
1 cup all-purpose white flour
1 tsp baking powder
1/2 tsp salt
2 cups organic blueberries
1/4 cup raw unsalted sunflowers
Directions
Turn oven to 350 degrees F. In a large bowl, mix together the eggs, butter, applesauce, sugar and almond extract. In another bowl, mix the flour, baking powder and salt. Add dry mixture to wet/egg mixture and stir just until combined. Gently stir in the blueberries and sunflower seeds. Fill oiled muffin tins 3/4 full and bake for about 20 to 25 minutes. These muffins taste best when shared. Makes twelve.