Here's another winning recipe from the January issue of the Willy Street Co-op Reader. The Steak and Sweet Potato Bowl with Avocado-Cilantro Sauce is a fusion of Asian and South of the Border ingredients. They perfectly compliment each other. So many wonderful flavors and textures it'll be like a party in your mouth. Enjoy!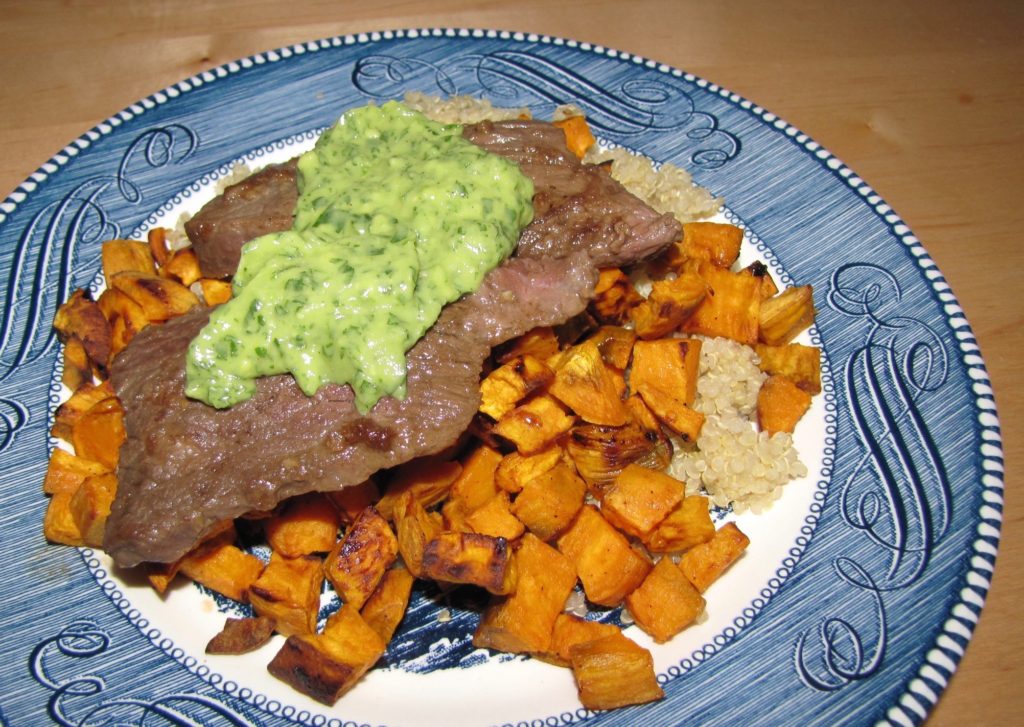 Ingredients
1 1/4 lb flank steak
1/4 cup soy sauce
2 tbsp canola oil, plus more for the pan
2 tsp honey
4 garlic cloves, crushed, plus 1 clove whole garlic, divided
1/4 tsp ground ginger
1 lb sweet potato, diced into 1-inch cubes
1 1/2 tbsp olive oil
salt and pepper to taste
1 large avocado, divided
1/4 cup packed fresh cilantro
1 1/2 tbsp lime juice
2-4 tbsp water
cooked quinoa, for serving
2 cup baby arugula
Directions
Combine the soy sauce, canola oil, honey, crushed garlic and ground ginger in a baking dish or container large enough to fit the steak. Add the steak to the marinade and refrigerate for 1-6 hours. (In place of the flank steak we sliced up a roast. Since we knew it was going to be more chewy, we marinated it over night.)
Preheat oven to 425 degrees F. Place the sweet potatoes on a rimmed baking sheet and drizzle with olive oil and season with salt and pepper. Toss to coat, then spread them in an even layer. Roast 25-30 minutes, until they are golden-brown and tender, giving them a stir part way through the cooking time.
Heat a large well-seasoned cast iron skillet over medium-high heat. Add a little canola oil to coat bottom of pan, and when hot, place the steak in the skillet. Sear steak for 2 minutes on each side for medium rare. (This totally depends on the thickness of the steak.) Transfer to cutting board and let rest about 10 minutes. Then slice into strips.
In the bowl of a food processor or blender, combine 1/2 the avocado, cilantro, lime juice, remaining clove of garlic and some salt and pepper. Pulse to roughly chop. Add 2 tablespoons more water, then process until smooth. Add 2 more 2 tablespoons of water to achieve a creamy consistency (if desired).
Slice the remaining half of the avocado. Fill four bowls with cooked quinoa. Top with handful of arugula, then the steak, roasted sweet potatoes and sliced avocado. Serve with avocado-cilantro sauce at table. Serves 4.