Middleton Co-op's September/October publication has some great coupons and recipe ideas. Their Autumn Harvest Pizza was a definite winner. This past Sunday, Heather and Bruce rolled up their sleeves, tossed some dough and baked up a nice pizza pie. As always, changes were made to the recipe to suit our palettes and what ingredients were available. And guess what? It turned out great! As a matter of fact, our two older boys, Kyle and Bruce, said it was better than any take-out pizza they had before.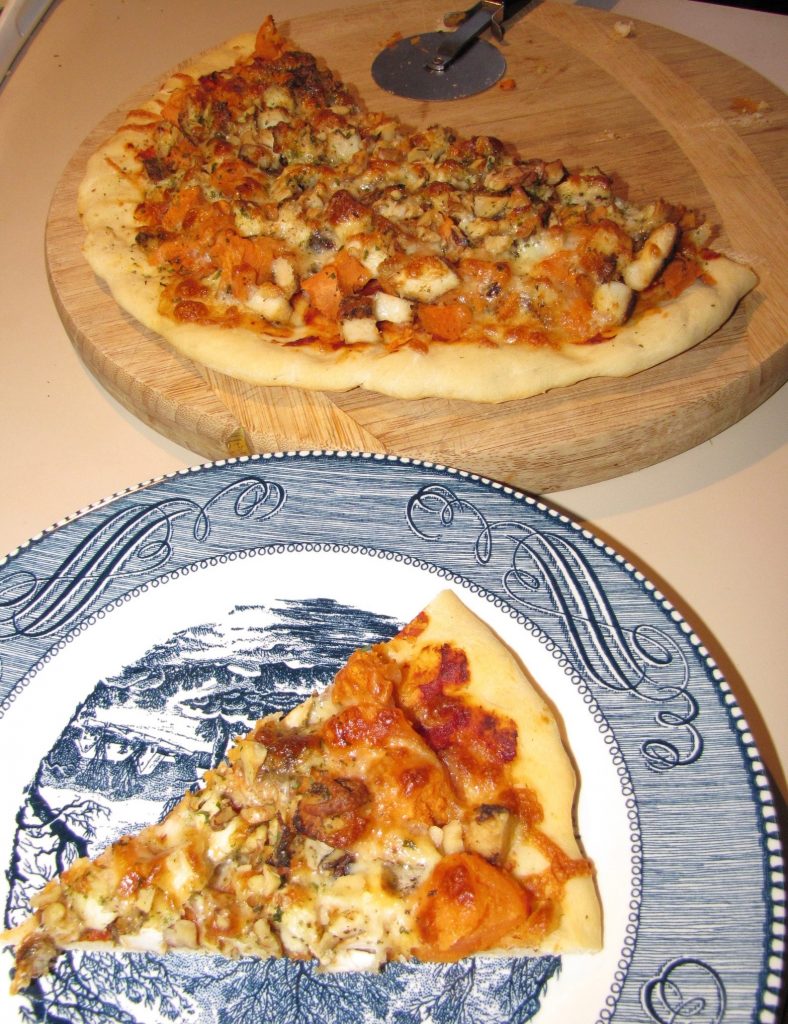 Ingredients
3 cups cubed and peeled sweet potatoes
1 6-ounce boneless, skinless chicken breast, chopped
1 tsp olive oil
1 tsp poultry seasoning
1/2 tsp sage
1 6-ounce can tomato paste
1 tbsp Italian spices (marjoram, oregano, rosemary, thyme, basil and savory)
1 1/2 cups smoked mozzarella cheese (instead of smoked Gouda)
1/4 cup chopped walnuts
1 tbsp dried parsley (instead of 2 tbsp fresh)
Directions
Instead of drizzling olive oil and salt on the cubed sweet potatoes and baking them in an oven, they were microwaved minus the oil and salt. Also the day before, a few chicken breasts were coated with poultry seasoning, sage and olive oil, then baked in the oven at 400 degrees for 40 minutes. After the chicken cooled, one was set aside for the pizza recipe. It was then chopped. What about the other pieces of chicken? One went into my quinoa salad. The other two hadn't made up their minds yet :-)
The original recipe called for a pre-baked crust. Instead Heather and Bruce followed a pizza crust recipe from Food Network's Tyler Florence.
Preheat oven to 425 degrees F. Into a small bowl, mix tomato paste and 1 tablespoon of Italian spices. Place pizza crust on a sheet pan and spread tomato paste mixture evenly on the crust. (We did not want it to be dry.) Next top the crust with chopped chicken and cover with mozzarella, walnuts and parsley. Bake for 20 minutes. Just a reminder, every oven is different so be sure to check that the cheese is bubbling and crust is crisp. Slice and ready to serve. Total prep time approximately 1 hour.