What did you do with your leftover turkey from Thanksgiving? Have a second helping? Freeze it? Or did you say "what leftovers"? This Thanksgiving I already had two leftover turkey dishes in mind: Turkey Salad Sandwiches and Turkey Rice & Vegetable Soup. Both turned out awesome! Why? As in the last few years, I prepared the turkey in a crockpot. A crockpot? Yes. The turkey is easy to prepare, requires no basting, easy to clean up and most of all the meat was moist and delicious. No dry white meat. And in case you are wondering, our crockpot is 8 quarts and snugly fit an 11-pound turkey. That was plenty for our family. Second, the broth/stock that came out of the crockpot was incredible. Better than anything from a can and not as salty. All this talk about food is making me hungry. So here are the two recipes to check out. Enjoy!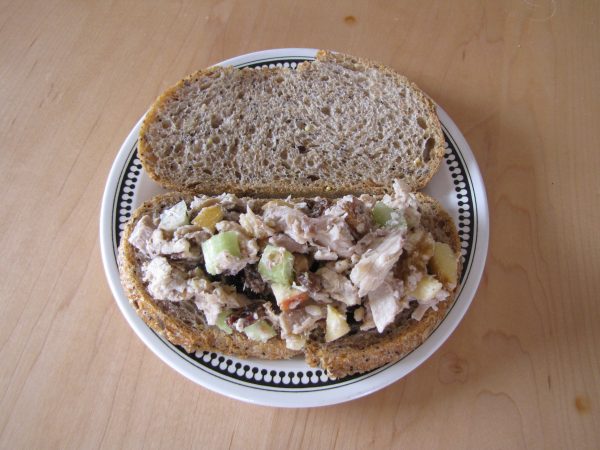 Ingredients
8 ounces turkey breast, shredded and chopped
1/2 cup organic raisins
1 organic Gala apple, diced
1 stalk organic celery, diced
1 cup walnuts, crushed
1 tablespoon mayonnaise
1/3 cup plain yogurt
1 tablespoon lemon juice
Directions
In a large bowl, add the turkey, raisins, diced apple, lemon juice and celery. Mix well.
Spread the shelled walnuts evenly on a cutting board. Using a glass, metal or ceramic bowl, crush the walnuts. Be sure to press the bowl down at a slight angle away from you. Why do I crush the walnuts? To make them into smaller bite sizes and to extract a little oil. This will add to the creaminess of the turkey salad.
Next add the walnuts, mayonnaise and yogurt. Mix thoroughly. Why did I add both mayonnaise and yogurt? I ran out of mayonnaise. Plus I feel that yogurt gives it a fresher and brighter taste.
Your turkey salad is ready to enjoy.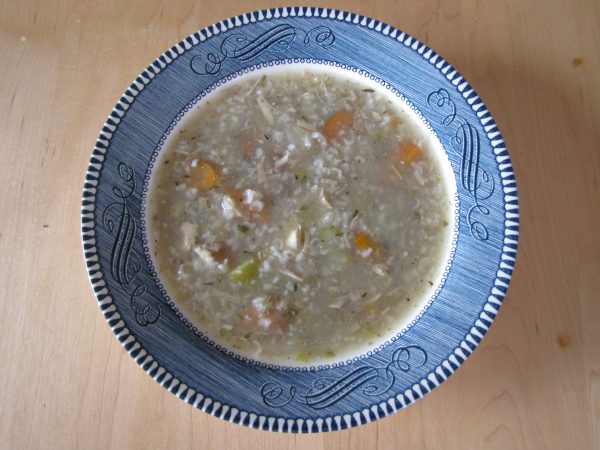 Ingredients
16 ounces turkey meat (shredded and chopped)
1 cup rice, dry
3 organic carrots, peeled and chopped
3 stalks organic celery, chopped
1 yellow onion, chopped
2 cloves garlic, diced
5 cups homemade turkey stock
7 cups water
1 tablespoon thyme
1 tablespoon dill weed
1 tablespoon olive oil
salt and pepper to taste
Directions
Place a large pot on the stove top and set heat to medium-high. Add olive oil, onions and garlic. Saute for about 1 minute.
Next add the celery and carrots. Cook for about 5 five minutes, mixing frequently.
Add turkey, spices, stock and water. FYI my stock was super concentrated, very gelatinous and flavorful. So depending on your palette you may want to add more or less water at this point. This will also affect the consistency of the soup.
Bring to boil. Once boiling, add rice, lower heat to simmer and cover with lid. I let it simmer for about 90 minutes. The rice broke down more than I wanted to, but all in all I thought it was a success.