Snow is falling outside and the temperatures are dropping, so it's time to heat things up with my Mom's Chili con Carne recipe. It's perfect on a chilly day. Get it? Chilly. Chili. Okay, enough of the puns. As you might know, I am a fan of one-pot meals. You cut stuff up, throw it in a pot, get things brown, lower the heat, cover the pot with a lid and walk away. Plus the clean up is easy since it's just one pot. You can also prepare chili in a crock pot. Unlike baking, this is a forgiving recipe. It's hard to make a mistake. Depending on what ingredients you have in the refrigerator or the pantry, you can make any number of adjustments. Enjoy!
Ingredients
2 tbsp vegetable oil
1 medium-size bell pepper, cored, seeded, and coarsely chopped
3 cloves garlic, minced
1-2 tsp chili powder
1 tbsp ground coriander
1 tbsp Mexican oregano
2 tbsp ground cumin
1/4 tsp salt
1 pound lean ground bison, beef or turkey
1 15-oz can crushed tomatoes
1 15-oz can tomato sauce or puree
1 can (10 oz) red kidney and/or black and/or red beans, drained and rinsed
½-1 cup frozen corn kernels, thawed and drained
1 bay leaf
ground black pepper to taste
1/2 cup black olives
(optional)
2 scallions, white part thinly sliced; green tops thinly sliced (optional cooked or as garnish)
Directions
Heat the oil in a skillet over moderate heat. Add onions, garlic and meat. Cook until meat is brown stirring occasionally. Add peppers and sauté for a couple minutes. Stir in chili powder, coriander, cumin, salt and pepper. Stir in crushed tomatoes, tomato sauce, beans, corn, black olives and green onions. Add bay leaf. Turn heat to low and let simmer for 1 hour.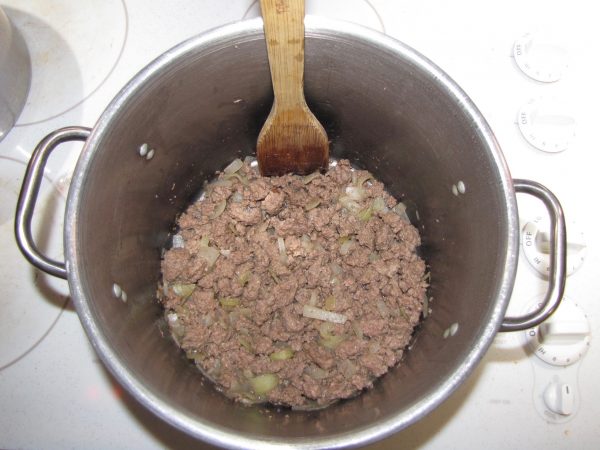 Ground bison has been browned with onions and garlic in vegetable oil.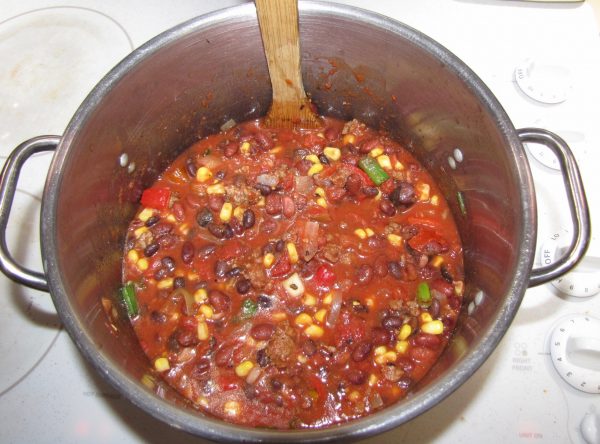 Everybody is in the pool. After adding the remaining ingredients, the pot is covered with a lid and simmers until read to eat.