Looking for a warm, filling and delicious recipe on a cold winter's night? Then check out this Mung Bean Soup Recipe (adapted from PinchofYum.com).
Ingredients
2 cups dry mung beans, monggo beans or green lentils
8 cups vegetable broth
1 tablespoon peanut oil
1 onion, minced
2 cloves garlic, minced
1 teaspoon freshly grated ginger
1 cup coconut milk
1 cup chopped spinach
salt and pepper to taste
Directions
Bring the broth to a boil in a large pot. Add the rinsed mung beans and cook, uncovered, for about 40 minutes. * You can also add the broth and beans to the pot at the same time and then bring to a boil. Since this was the first time preparing the dish, I wasn't sure what consistency to aim for. I have prepared both lentil soup and split pea soup before. With lentil soup, the beans are still intact (just soft), and with split peas, they often dissolve and it turns into more of a porridge.
Heat the oil in a large skillet over medium heat. Saute the onion, garlic, and ginger in the oil until soft and fragrant, about 3 minutes. Add to the mung pot and allow the mixture to simmer together for a few minutes.
Stir in the coconut milk and chopped spinach. Serve over rice or plain.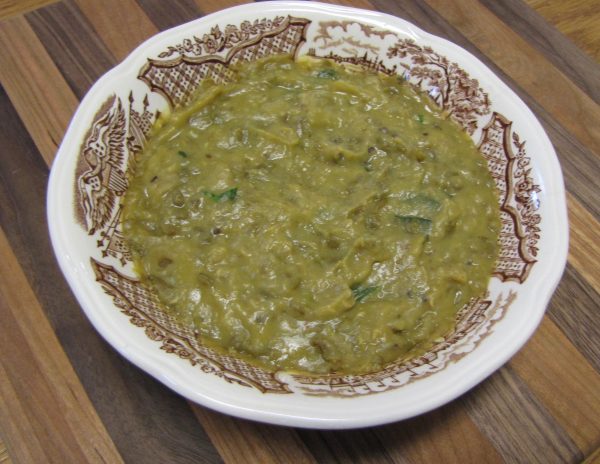 Apparently this was so good that my oldest son asked to bring some for his school lunch today!