Looking for an alternative to rice, pasta or quinoa? Then check out our Pearl Couscous Salad that we made yesterday. Makes for a great appetizer, side dish or a snack on its own. Super tasty and filling. Every bite is flavorful and the couscous has a pleasant chewy texture. The prep time is only 20 minutes, and the cook time is just 30 minutes. You can do that. (Adapted from Allrecipes.com)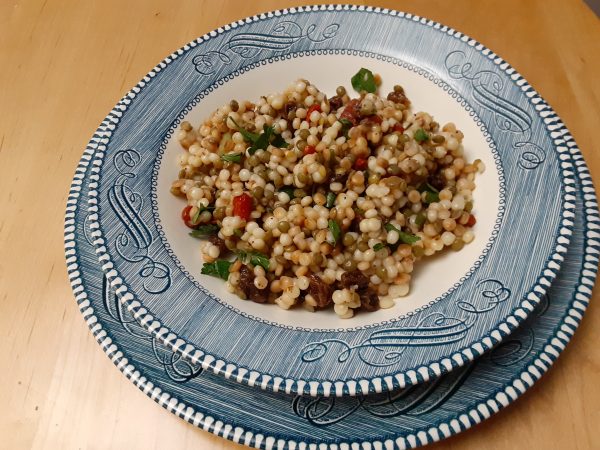 Ingredients
3 tbs olive oil, divided
2 cups pearl couscous
2 1/2 cup water
1/2 cup French lentils
2 tomatoes, diced
1 small cucumber, diced
1/2 cup raisins
1/2 cup dried goji berries, soaked in hot water for 15 minutes to hydrate [original recipe called for 1/2 cup dried cranberries]
1 tsp dried chives
1 tbsp fresh flat parsley, chopped
1 tsp ground sumac
Dressing:
1/4 cup olive oil
1 1/2 tbsp lemon juice
1 tbsp honey
salt and pepper to taste
Directions
Heat one tablespoon olive oil in a skillet over medium heat. Cook and stir couscous in the hot oil until toasted and fragrant, 3 to 4 minutes. Add 2 1/2 cups water to couscous and bring to boil; cover skillet and cook until couscous is tender, about 10 minutes. Rinse couscous in a colander with cold water and transfer to a bowl. Mix 2 tbs olive oil into couscous and stir to coat.
Place lentils in a small pan and cover with water. Bring to boil. Reduce heat to medium-low and simmer until lentils are tender, 15 to 20 minutes. Drain and rinse lentils under cold water in a colander; add to couscous
Mix tomatoes, cucumbers, raisins, goji berries, chives, parsley, and sumac into couscous-lentil mixture.
For dressing, beat 1/4 olive oil, lemon juice, honey, salt and pepper together in a bowl; pour over couscous-lentil mixture and stir until coated. Refrigerate salad for flavors to blend, 8 hours to overnight.