Do you ever feel like you're cooking for an army? In my house, with five very active individuals, it sure feels that way. That's where soups and stews come in handy. They are often easy to prepare and make plenty of servings. If you're more of a crock pot person, this recipe will work great too. And remember, you can always adjust amounts of ingredients for personal taste. Since we used a smoked ham hock, for example, we didn't add any herbs or spices other than two bay leaves. Enjoy this delicious recipe! (This recipe was adapted from Better Homes & Gardens Magazine.)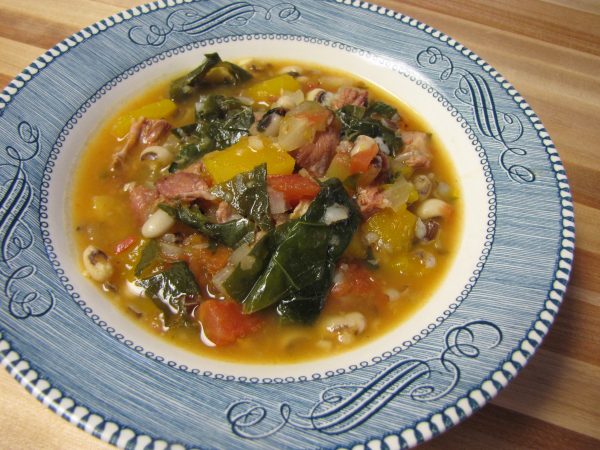 Ingredients
1 cup dried black-eyed peas
1 tbsp olive oil
2 cloves garlic, minced
2 cups onion, diced (1 yellow, 1 red)
1 cup carrots, diced
1 stalk celery, diced
6-8 cups chicken stock
1 meaty ham hock (approximately 1 pound)
2 bay leaves
1 14-ounce can diced tomatoes
2 cups cubed pumpkin
1/4 – 1/2 cup rice, uncooked
2 cups hearty greens (kale or collards, fresh or frozen)
*Optional
1 cup cubed rutabaga
salt and pepper to taste
ham instead of ham hock
If you don't have pumpkin, you can use squash, sweet potato or other root vegetable.
Directions
1. Soak and cook dried beans according to directions. Rinse well. If using canned beans, open and rinse well. Set aside.
2. In a large stock pot, set heat to medium and add olive oil. Saute garlic, onion, celery and carrots until soft.
3. To pot, add stock, ham hock, bay leaves, diced tomatoes, cubed pumpkin and rice. Bring to boil briefly. Then cover and simmer for one hour.
4. Add cooked beans and hearty greens. Cook until beans are warm and greens are wilted. Approximately 10 minutes.
Serve and enjoy!