With my three boys all being home and doing online school, they have a lot of free time. What better way to fill that free time than with chores :-) Last weekend, Kyle and Bruce made Pasta Salad, Bison Burgers and Homemade Buns. Everything turned out delicious. If you're wondering what Roy was doing . . . he was supervising.
Here are the 3 recipes. Enjoy!
Bruce's Pasta Salad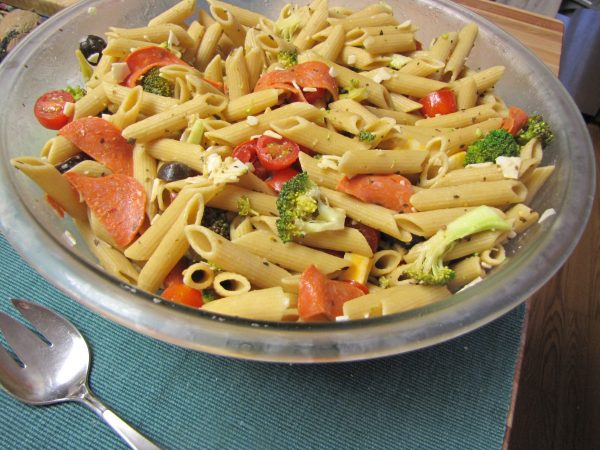 Ingredients
16 ounces whole wheat Penne pasta, uncooked
1 cup broccoli, chopped
1 cup cherry tomatoes, halved
1/2 cup black olives, sliced
3 ounces sliced pepperoni
1/4 cup Parmesan cheese, crumbled
2 tbsp olive oil
2 tbsp red wine vinegar
salt and pepper to taste
Directions
In a large pot, add 4-5 quarts of water and bring to boil. Add pasta and cook for approximately 10 minutes, or until al dente. Strain pasta and rinse under cold water to stop cooking process.
In a large bowl, add the cooked pasta, broccoli, tomatoes, olives, pepperoni, olive oil, vinegar, salt and pepper. Toss gently. Sprinkled with Parmesan cheese.
Kyle's Hamburger Buns (from AllRecipes.com)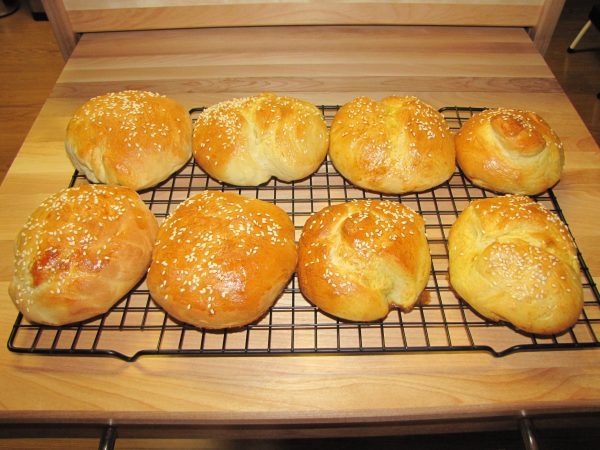 Ingredients
1 (.25 ounce) package active dry yeast. (If you have a jar of yeast, use 2 1/4 tsp)
1 pound all-purpose flour, divided
1 cup warm water (105 degrees F)
1 large egg
3 tbsp butter, melted
3 tbsp white sugar
1 1/4 tsp salt
1 tsp olive oil
1 egg, beaten
1 tbsp milk
1 tsp sesame seeds
Directions
Line a baking sheet with parchment paper.
Place yeast into bowl of a large stand mixer; whisk in 1/2 cup flour and warm water until smooth. Let stand until mixture is foamy, 10 to 15 minutes.
Whisk 1 egg, melted butter, sugar, and salt thoroughly into yeast mixture. Add remaining flour (about 3 cups).
Fit a dough hook onto stand mixer and knead the dough on low speed until soft and sticky, 5 to 6 minutes. Scrape sides if needed. Poke and prod the dough with a silicone spatula; if large amounts of dough stick to the spatula, add a little more flour.
Transfer dough onto a floured work surface; dough will be sticky and elastic but not stick to your fingers. Form the dough lightly into a smooth, round shape, gently tucking loose ends underneath.
Wipe out stand mixer bowl, drizzle olive oil into the bowl, and turn dough over in the bowl several times to coat surface thinly with oil. Cover bowl with aluminum foil. Let dough rise in a warm place until doubled, about 2 hours.
Transfer dough to a floured work surface and pat to flatten bubbles and form into a slightly rounded rectangle of dough about 5×10 inches and about 1/2 inch thick. Dust dough lightly with flour if needed. Cut dough into 8 equal pieces. Form each piece into a round shape, gently tucking ends underneath as before.
Use your hands to gently pat and stretch the dough rounds into flat disc shapes about 1/2 inch thick. Arrange buns about 1/2 inch apart on prepared baking sheet. Dust buns very lightly with flour. Drape a piece of plastic wrap over the baking sheet (do not seal tightly). Let buns rise until doubled, about 1 hour.
Preheat oven to 375 degrees F.
Beat 1 egg with milk in a small bowl, using a fork, until mixture is thoroughly combined. Very gently and lightly brush tops of buns with egg wash without deflating the risen dough. (You might have extra egg wash.) Sprinkle each bun with sesame seeds.
Bake in the preheated oven until lightly browned on top, 15 to 17 minutes. Buns will stick together slightly where they touch. Let cool completely, tear the buns apart, and slice in half crosswise to serve.
Bruce's Bison Burgers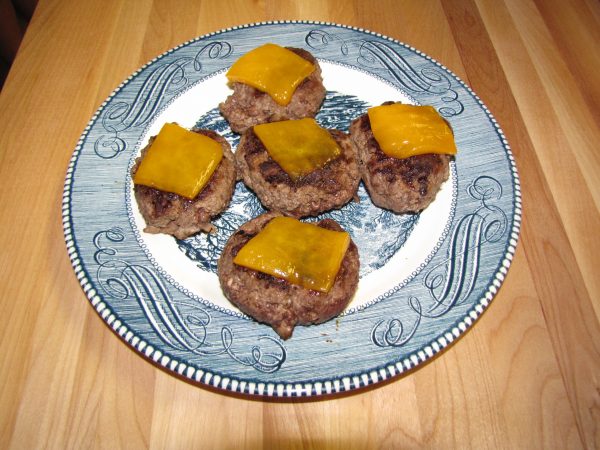 Ingredients
1 pound ground bison burger
4 ounces extra sharp cheddar cheese, sliced
Directions
Heat oven, griddle, pan or grill. We used a George Foreman Grill.
Form ground meat into five 3-ounce bison patties. (Someone must have gotten a 4-ounce burger. I think it was me.)
Cook on Foreman Grill for 4 minutes. (Remember a Foreman Grill cooks food on both sides at the same time.)
Remove patties from grill and immediately top with sliced cheese. Heat of burgers will melt the cheese.
Chefs Bruce and Kyle