I like desserts. I mean, I really like desserts. They aren't cheat foods to me because that implies that I'm doing something bad or wrong or breaking a rule. As a matter of fact, I don't believe in cheat foods or cheat days. That's not a healthy approach to living a healthy lifestyle. It's all about balance and moderation, not deprivation and restriction, right? In my opinion, there is no problem having a dessert once in a while. How about a fresh fruit cobbler? We made this blackberry cobbler recently and it turned out great. Piping hot and delicious. It's simple to prepare and uses only a handful of ingredients. You can make this with other fruits like peaches, cherries, blueberries, apple and more! Enjoy!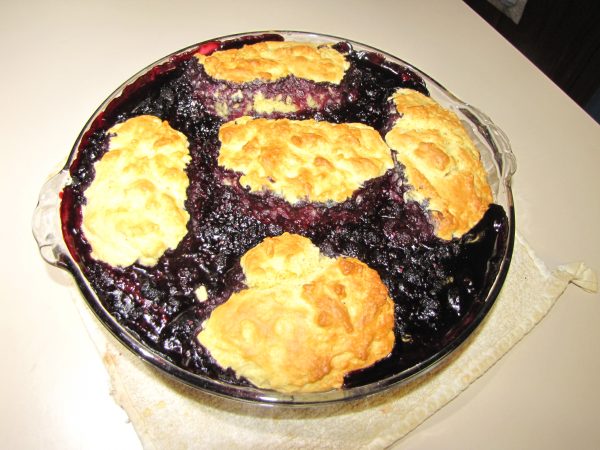 Ingredients
Part A: Biscuit Topper
1 cup sifted all purpose flour
2 tbsp sugar (optional)
2 tsp baking powder
1/4 tsp salt
1/4 cup butter
1/4 cup milk
1 beaten egg
Part B: Pie Filling
1/2 cup sugar (white or brown)
2 tbsp cornstarch or flour
1/2 tsp ground cinnamon
1/4 tsp nutmeg
4 cups blackberries (picked from our garden)
1 tbsp lemon juice
Directions
Part A. In a large bowl, sift together dry ingredients. Cut in butter until mixture resembles course crumbs. Add milk and egg, stirring just to moisten. Then set aside.
Part B. In a pot, stir ingredients together and cook over medium heat for about five minutes until thick and bubbly.
Pour filling into 10″ pie pan. (We prefer 10″ over a 8″ or 9″ so filling doesn't bubble over and make a mess.) Spoon on biscuit topper in five or six mounds. Bake at 400 degrees F for 20 to 25 minutes. Serve warm.