As the smell of Marsala wine, chicken, butter and mushrooms waft through the house, my boys run into the kitchen and ask rhetorically if I'm making Chicken Marsala. I answer, Yes. Then my son, Bruce, asks if we're having it with flat egg noodles. Those are his favorite. Of course, I say. He smiles, looks into the skillet, inhales deeply, and leaves the room with a big smile on his face. Chicken Marsala looks like a fancy recipe, but it is super easy. Prep time is around 15 minutes and cook time is 30 to 45 minutes. I adapted this recipe from chef Emeril Lagasse on FoodNetwork.com.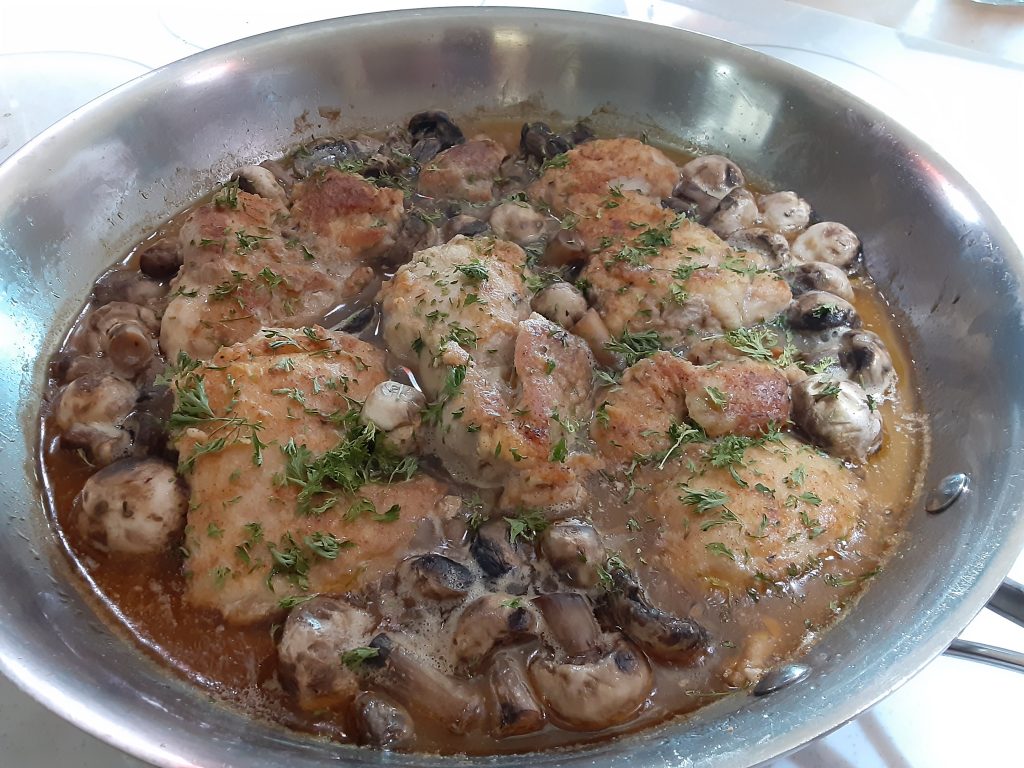 Ingredients
Directions
In a shallow bowl or plate combine the flour and Essence and stir to combine thoroughly. Dredge the chicken thighs in the seasoned flour mixture, shaking to remove any excess flour.
Heat the oil in a large skillet over medium-high heat until hot. Add 1 tablespoon of the butter and cook the chicken thighs until golden brown on both sides, about 5 minutes per side.
Add the mushrooms on top of the chicken and remaining 1 tablespoon of butter. Cook, stirring frequently, until mushrooms are golden brown around the edges and have given off their liquid.
Add the chicken stock and Marsala wine to skillet and bring to a boil, scraping to remove any browned bits from the bottom of the pan. When the sauce has thickened slightly, lower the heat and simmer for about 15 minutes. Add salt and pepper, to taste. Garnish with chopped parsley and serve immediately.
* The original recipe called for twice as much butter. I think it's rich enough since the dish is prepared in olive oil and there is some fat from the thigh meat.
* The original recipe called for removing the chicken from the skillet and then adding them back in. I am too lazy and also like to make sure the chicken is cooked all the way through. Don't worry, the chicken will not get rubbery if it cooks longer since it is immersed in a wine/chicken stock mixture.
Essence (Emeril's Creole Seasoning)