With 4-5 inches of snow expected today, it is definitely soup weather. Yesterday I perused the December issue of the Willy Street Co-op Reader and looked at the recipe section. The Chicken and Potato Soup recipe looked great. We had most of the ingredients, so I didn't need to go to the grocery store. As always, we made some adjustments for taste and what was available. It turned out absolutely delicious. Enjoy!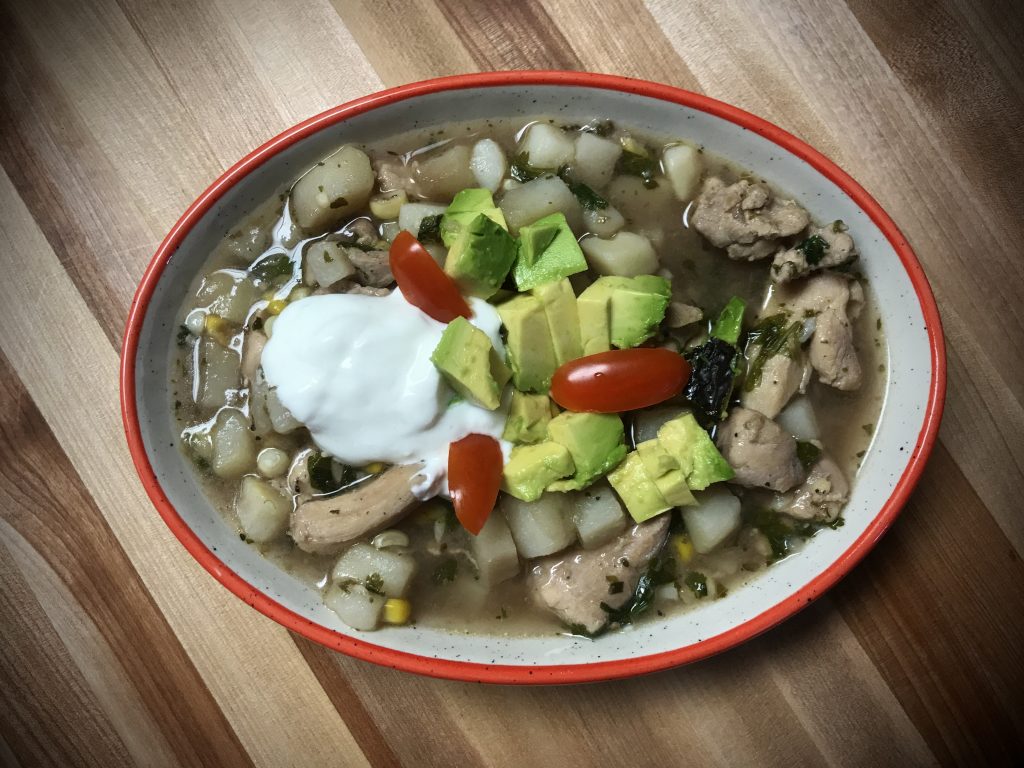 Ingredients
1.5 pounds boneless skinless thigh meat, chopped (recipe called for breast meat, but I prefer the flavor of dark meat)
1 yellow onion, chopped
5 cloves garlic, minced
1 tsp salt (recipe called for 1 tbsp)
2 tbsp olive oil
1 tbsp ground black pepper
4 cups chicken stock
1.5 pounds potatoes, peeled and chopped
1.5 cups corn kernels
1 green onion, chopped (recipe called for a bunch, but we didn't have that much)
1 bunch cilantro, chopped
2 tbsp dried oregano
2 avocadoes, cut into cubes
1/2 cup plain Greek yogurt (recipe called for sour cream)
Directions
Place chicken in a casserole dish and top with the onion, garlic, salt and pepper. Mix to coat. Cover and refrigerate for 4 hours. (Recipe suggests 8 to 24 hours.)
In a large pot, heat the olive oil over medium-high heat. Add the chicken with the garlic and onion and brown for about 8 minutes, stirring frequently. Add the chicken stock and raise heat to high. Bring to boil, then lower to medium-low heat and cover. Simmer for 30 minutes, until chicken is tender.
[At this point we made a significant change. The recipe calls for removing the chicken and then cooking the potatoes in the pot of cooking liquid. This is followed by adding some of the herbs and vegetables, then removing/discarding some of the vegetation and then returning the chicken to the pot. I find this entirely unnecessary and wasteful.]
While the chicken was simmering, we peeled and chopped the potatoes. To save time, we microwaved the potatoes for a few minutes. Just enough so that a fork or knife could penetrate.
We stir in the potatoes, corn, green onion and oregano. Cook for about 20 minutes.
Serve the soup with avocado and yogurt. (The recipe suggests garnishing with 2 tbsp capers. We left that out.)