Let me begin by saying that I love Indian food. I love the flavors, the aromas and the spices. As a matter of fact, we make some kind of Indian dish every week. Here is one that Heather made the other day. It's an Indian Butter Chicken recipe with a side of Chickpea Tikka Masala. Just writing about it makes me hungry. I think there's some leftovers in the fridge. Enjoy!
The Indian Butter Chicken recipe was adapted from an article in the magazine Slow Cooker Favorites Volume 7.
The Chickpea Tikka Masala recipe was born of Heather's culinary experience.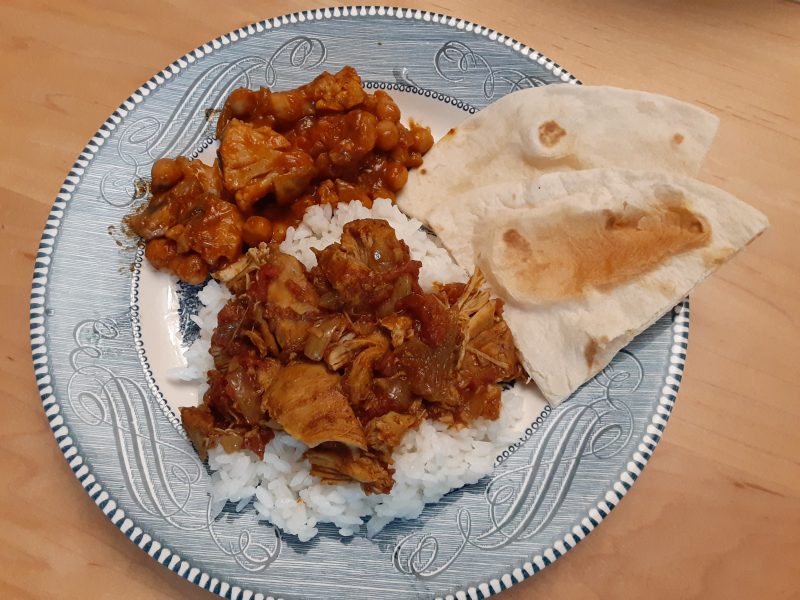 Ingredients for Indian Butter Chicken
3 Tbsp butter
2 lbs chicken thighs and drumsticks
1 Tbsp grated fresh ginger
1 Tbsp garam masala
3 cloves garlic, minced
1 tsp ground cumin
1/2 tsp salt
1/2 tsp ground turmeric
1/4 tsp cayenne pepper
1 14.5 ounce can diced tomatoes, undrained
1 cup chopped onion
Directions
In a large skillet heat 3 Tbsp butter over medium heat. Add chicken; cook 5 minutes or until lightly browned, turning once. Transfer chicken to a slow cooker.
Add ginger, garam masala, garlic, cumin, salt, turmeric and cayenne pepper. Toss to coat. Stir in tomatoes and onion. Cover and cook on low 6 hours or high 3 hours.
Serve over rice and with a side of warm naan.
Ingredients for Chickpea Tikka Masala
1 15 ounce can organic garbanzo beans (aka: chickpeas)
8 ounces mushrooms, sliced
1/2 yellow onion, chopped
8 ounces cauliflower, chopped
2 Tbsp cow ghee (clarified butter)
1/2 15 ounce jar of Tikka Masala Simmer Sauce (from Aldi)
Directions
In a skillet, heat clarified butter over medium high heat. Add mushrooms and onion and sauté for 3 minutes, stirring frequently. Then add cauliflower. FYI we used cauliflower that we had previously chopped and frozen. Cook for another 3 minutes.
Add chickpeas and mix ingredients thoroughly. Then add simmer sauce and stir to coat. Set heat to simmer and cook for 15 minutes or until dinner is ready. Enjoy!