Looking for an easy-to-prepare, healthy and delicious chicken recipe? Then try this Street Cart-Style Chicken and Rice with Yogurt Lemon Sauce. Recipe adapted from Backyard Poultry Magazine April/May 2020 issue.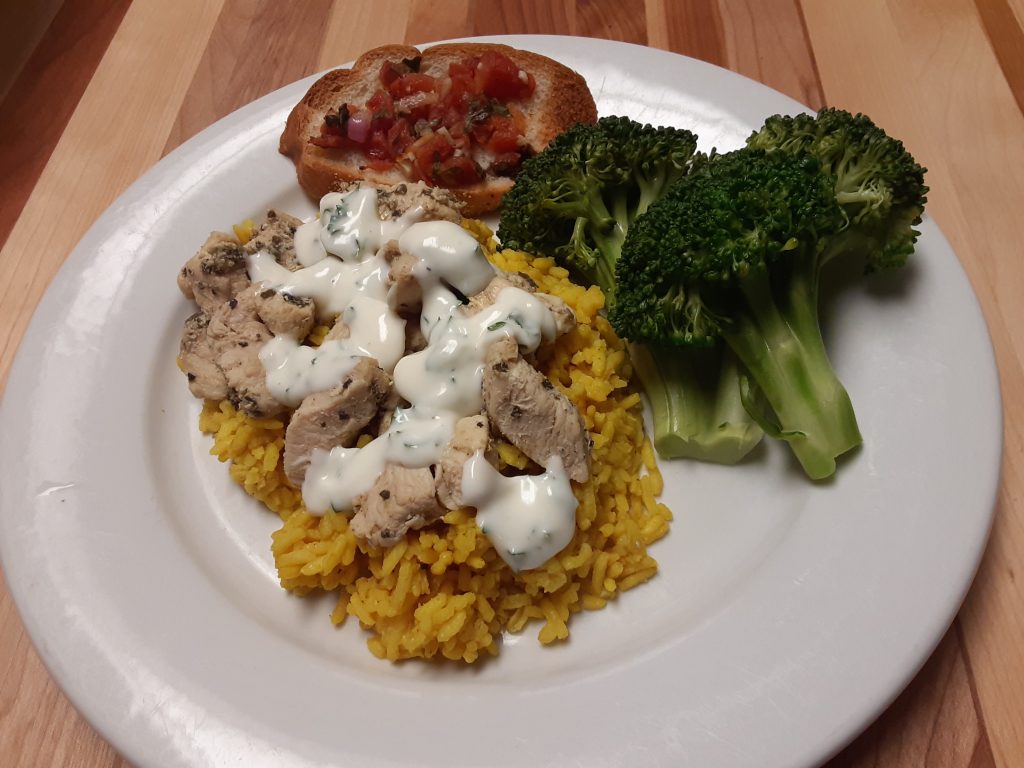 Ingredients
For the chicken:
2 pounds boneless, skinless chicken breasts
Marinade
3/4 cup fresh lemon juice
1 tbsp dried oregano
3/4 tsp ground coriander
3 large garlic cloves, minced (about 2 tbsp)
1/4 cup olive oil
1/2 tsp salt
1/2 tsp ground black pepper
For the Rice
3 tbsp butter
1/2 tsp turmeric
1/2 tsp ground cumin
2 cups long grain rice
2 cups chicken brother
2 cups water
salt and pepper to taste
For the Yogurt Lemon Sauce
1/4 cup real mayonnaise
3/4 cup plain Greek yogurt
1 tsp sugar
1 tbsp clear vinegar
1 tbsp lemon juice
handful of chopped fresh parsley
salt and pepper to taste
Instructions for the Chicken
Combine lemon juice, oregano, coriander, garlic, olive oil, salt and black pepper. Mix well. Place chicken in large bowl or casserole dish and add marinade. Turn chicken to coat. Marinate in refrigerator for at least one hour and up to fours hours, turning occasionally. Don't marinate chicken longer than four hours or it'll get broken down and will have a mushy texture because of the acid from the lemon juice.
Remove chicken from marinade. Chop into pieces. Heat skillet over medium-high heat. Add chicken pieces and garlic from the marinade to skillet stirring frequently. Cook chicken until done. Approximately 10 – 15 minutes.
Instructions for the Rice
To a pot add rinsed rice, 2 cups of water and 2 cups chicken broth. Cook on high heat. Add butter, turmeric, cumin, salt and pepper. Stir thoroughly. Bring rice to boil. Cover, reduce to simmer and cook 15-20 minutes. Remove from heat and allow to rest until water is absorbed and rice is tender about 15 minutes.
Instructions to Serve
Plate rice. Add a few spoonfuls of chicken on top. Drizzle with yogurt sauce. We served it with steamed broccoli and bruschetta.