This one-pan dinner brings together chickpeas, marinara sauce, broccoli and mozzarella in a single skillet. A crunchy Parmesan and bread crumb blend is the final touch to this comforting, easy, and nutritious meal. Recipe adapted from Martha Stewart.com.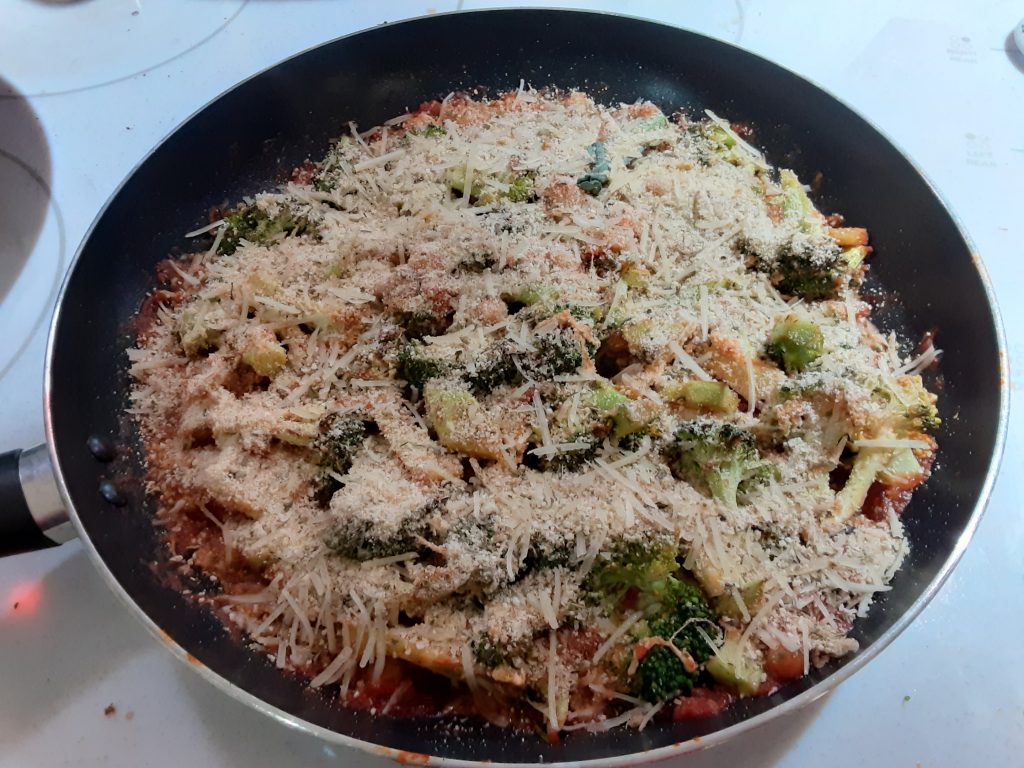 Ingredients
1/3 cup breadcrumbs (*recipe called for Panko and I used Italian bread crumbs.)
Directions
Preheat over to 450°F, with a large cast-iron or other ovenproof skillet on middle rack. (*The original recipe asks that you cut the broccoli lengthwise and then cut larger pieces in half again (also lengthwise) to create long florets. Instead I used the entire head of broccoli including the stalk. No waste here.) Remove skillet from oven; swirl in 2 tablespoons oil. Add broccoli and turn to coat, then arrange so a flat side of each piece faces down; season with salt and pepper. Roast 15 minutes.
Stir together bread crumbs, Parmesan, garlic, thyme, and oregano. Transfer broccoli to a plate. Add marinara to skillet; top with mozzarella and chickpeas. Return broccoli to skillet, browned-sides up. Sprinkle evenly with bread crumb mixture. Roast until bread crumbs are golden, mozzarella is melted, and sauce is bubbling, about 10 minutes. Remove from oven; let stand 10 minutes. Serve. (*Because my cast iron skillet wasn't large enough to hold all of the contents, I used a bigger skillet [not oven-proof], added the ingredients and finished the dish off on the stove top instead of the oven. The Parmesan cheese did melt but the bread crumbs did not get golden. No biggie.)