Recently I tried a Chicken Biryani Recipe, and it turned out great. A few alterations were made. The main one being that I cooked everything in one pot for maximum flavor and minimum cleanup! The recipe I based this on used too many pans and skillets for my liking. The most difficult part of preparing the dish was waiting for it to be done. My kitchen and most of my house smelled of Indian spices and savory aromas. It was worth waiting for. I give it 👍👍. Try this recipe and let me know how if goes. Enjoy!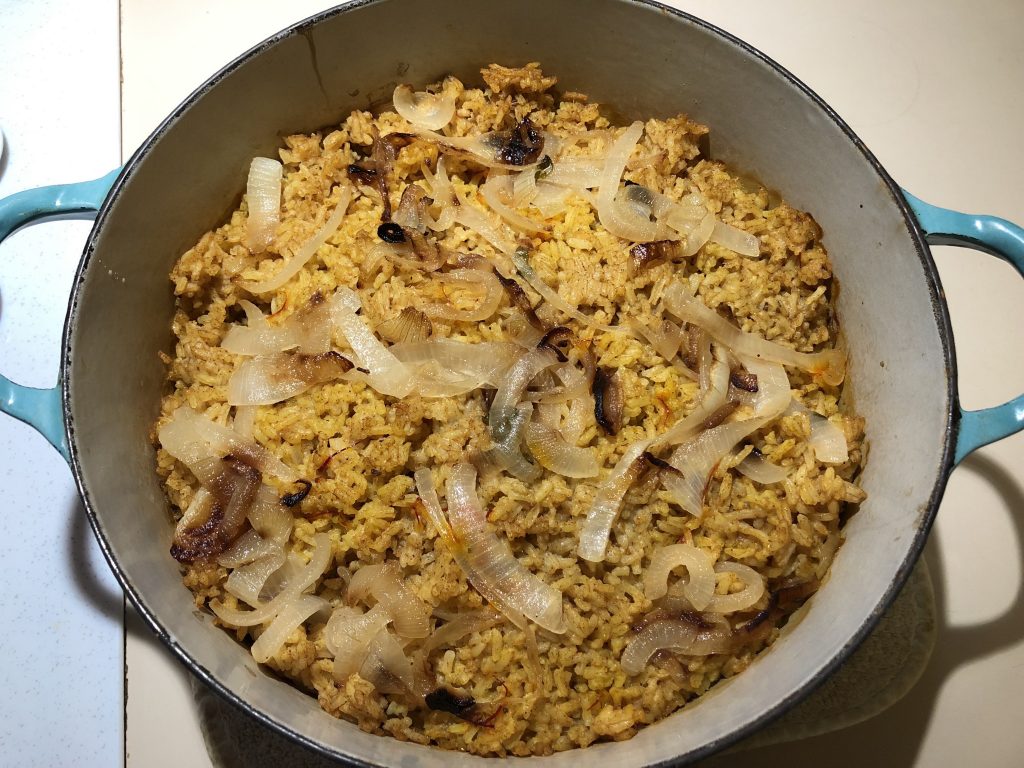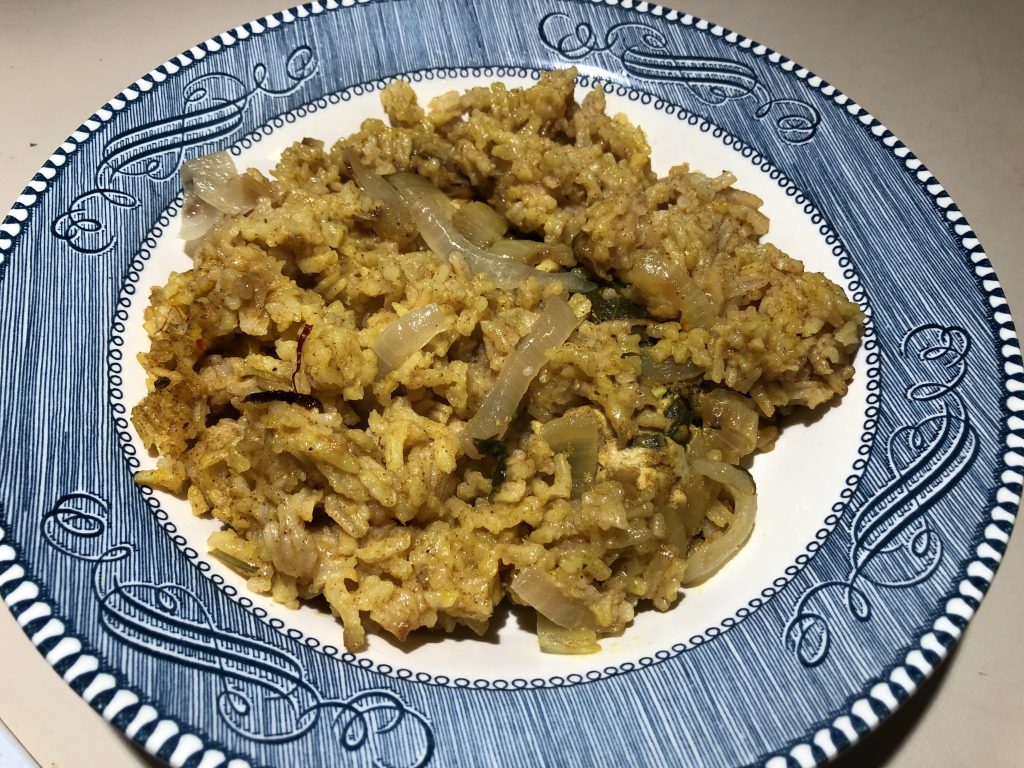 Ingredients
1.5 pounds chicken thighs, cut into 1/2″ pieces
1/2 cup coconut milk
1/2 tsp turmeric
1 1/2 tsp fresh minced garlic
1 tsp ground ginger powder
1 tsp cumin
1 tsp paprika
1/2 tsp cardamom
1/2 tsp coriander
1/2 tsp curry powder
1/2 tsp salt
pinch cayenne pepper
2 tbsp lemon juice
3 tbsp fresh cilantro finely chopped
3 large sweet onions sliced long and thin
Ingredients for Rice
2 cups Basmati rice uncooked
3 1/2 cups water
1 1/2 tsp cumin
1 1/2 tsp cardamom
1 tsp curry powder
1/2 tsp cinnamon
1 1/2 tsp paprika
1/2 tsp salt
1 tsp dried anise
2 bay leaves
1 tsp olive oil
2 tbsp lemon juiced divided
2 tsp saffron
Directions
Marinate chicken in a medium size bowl, stirring together coconut milk with all chicken spices. Stir to coat and let marinate in refrigerator for at least 4 hours.
To a pot or dutch oven, add 2 tsp of vegetable oil. Set heat to medium-high. Add onions and cook until browned. Remove pot from heat and plate onions.
To the same pot, add the marinated chicken. Sauté over medium to high heat until cooked.
Add water and all rice spices to same pot. Stir together and bring to boil. Then add rice and reduce heat to low. Let simmer until liquid is absorbed, but rice is not fully cooked, about 12 minutes.
Meanwhile, preheat oven to 350 degrees F. Then add cooked onions to top of rice/chicken dish. Mix saffron with remaining 2 tbsp lemon juice. Drizzle over top. Cover and bake for 60 minutes.