Last night I made a Chicken Curry and Sweet Potato recipe from the Willy Street Coop READER, January 2022. As always, I made some changes based on what ingredients we had in the kitchen and our personal taste. For example, I used dried basil in place of fresh basil, omitted the salt, cut the sugar in half, used ginger powder in place of fresh ginger and used a fraction of the red pepper flakes that the original recipe called for. And the result? It turned out great! It was the best chicken curry I have EVER made if I do say so myself. The lemongrass and fish sauce brought out the Thai flavors. The coconut milk made the sauce velvety. And it was super easy to prepare. About 20 minutes prep time and 40 minutes cook time. It was so good that there were no leftovers. Try it out and let me know what you think!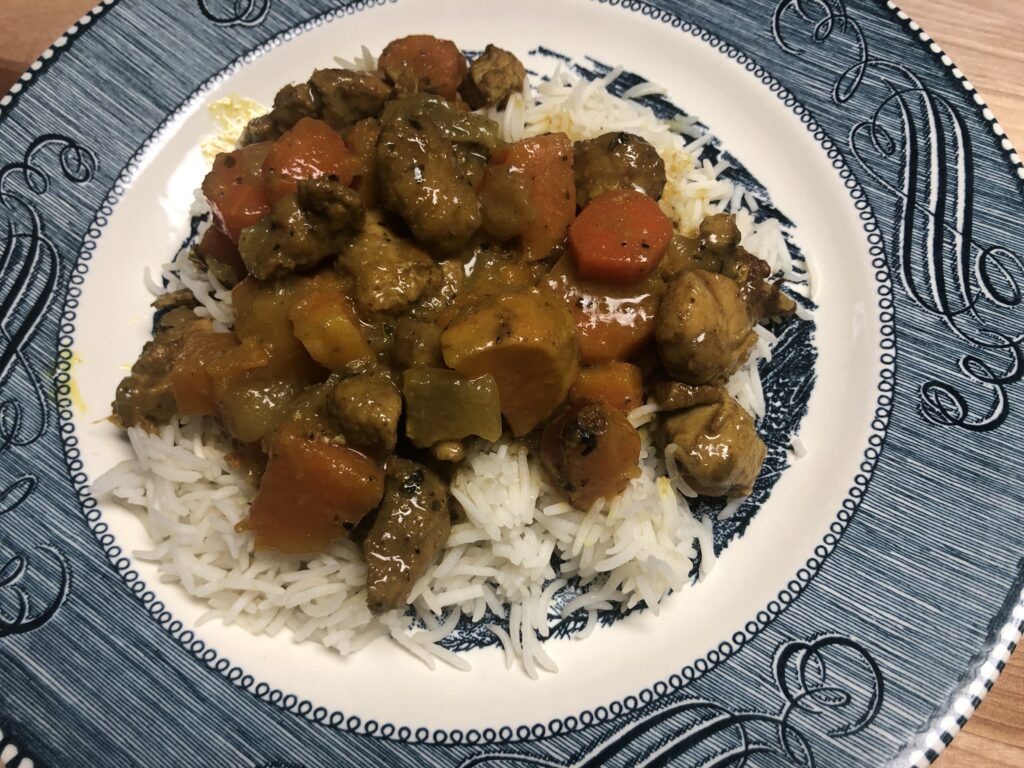 Ingredients
3 Tbsp curry powder
2 lbs chicken thighs, sliced into 1/2″ pieces
1 Tbsp vegetable oil
2 cloves garlic, minced
1/8 tsp crushed red pepper flakes
3 Tbsp fish sauce
1 tsp sugar
2 lemongrass stalks
1 tsp ground ginger
1 1/2 cups chicken broth
3 carrots, peeled and chopped
1 1/2 pounds sweet potato, peeled and chopped
1 1/2 coconut milk
1 onion, chopped
1 Tbsp dried basil
Directions
Place the chicken pieces in a dish or container and sprinkle with 2 tablespoons of the curry powder. Mix to coat and set aside for 30 minutes.
Heat the oil in a medium pot or deep skillet over medium-to-high heat. Add the garlic, crushed red pepper and last tablespoon of curry powder. Stir until fragrant, about 10-15 seconds. Add the chicken and cook until the edges turn golden, 7-8 minutes. Stir in the fish sauce, sugar, lemongrass, ginger and chicken broth. Bring to boil, then reduce heat to low and add carrots. After about 10-12 minutes, pour in the coconut milk. Fold in onions, sweet potatoes and basil and simmer for 15-18 minutes, until the vegetables are tender. Serve hot over basmati rice.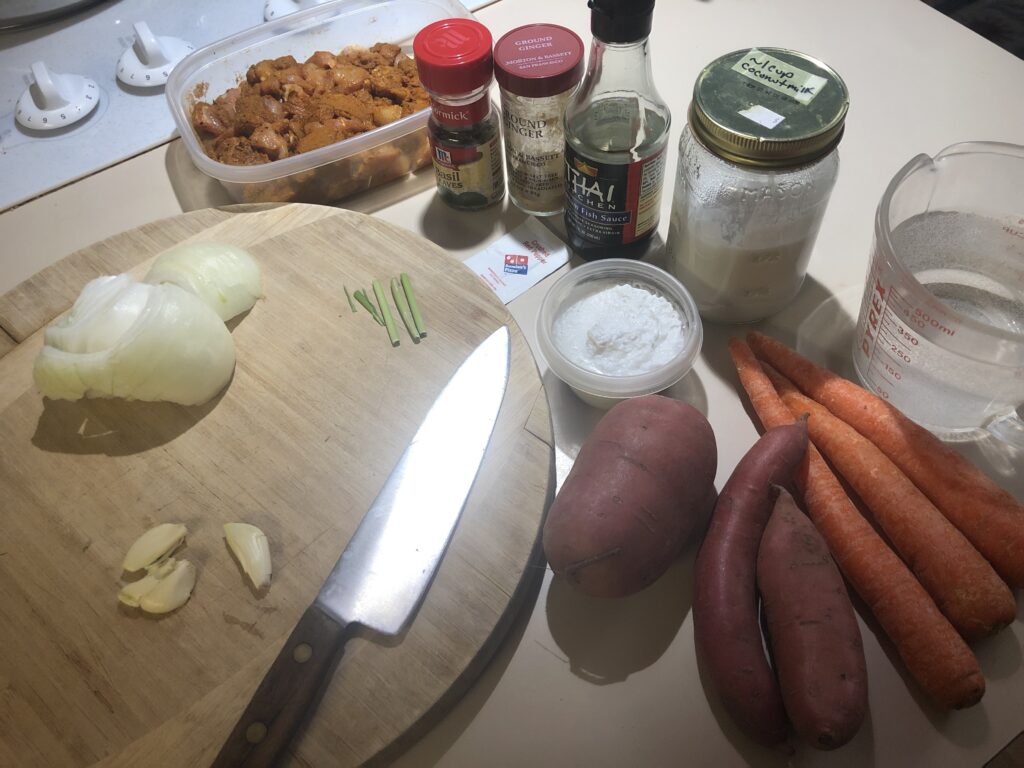 Notice the two containers of coconut milk. We had frozen them previously, so we just needed to defrost them for this recipe. We also used a small package of red pepper flakes from Dominos Pizza. Must be at least 5 years old. But as my Mom would say "Spices last forever."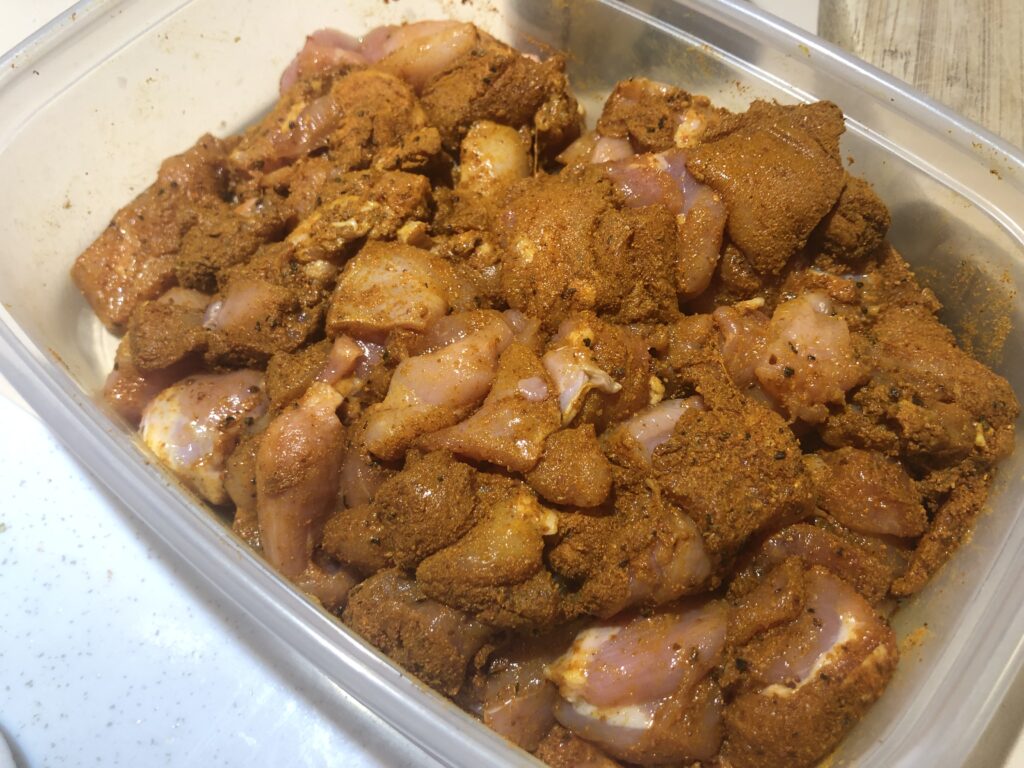 Chicken pieces resting nicely in a container with curry powder.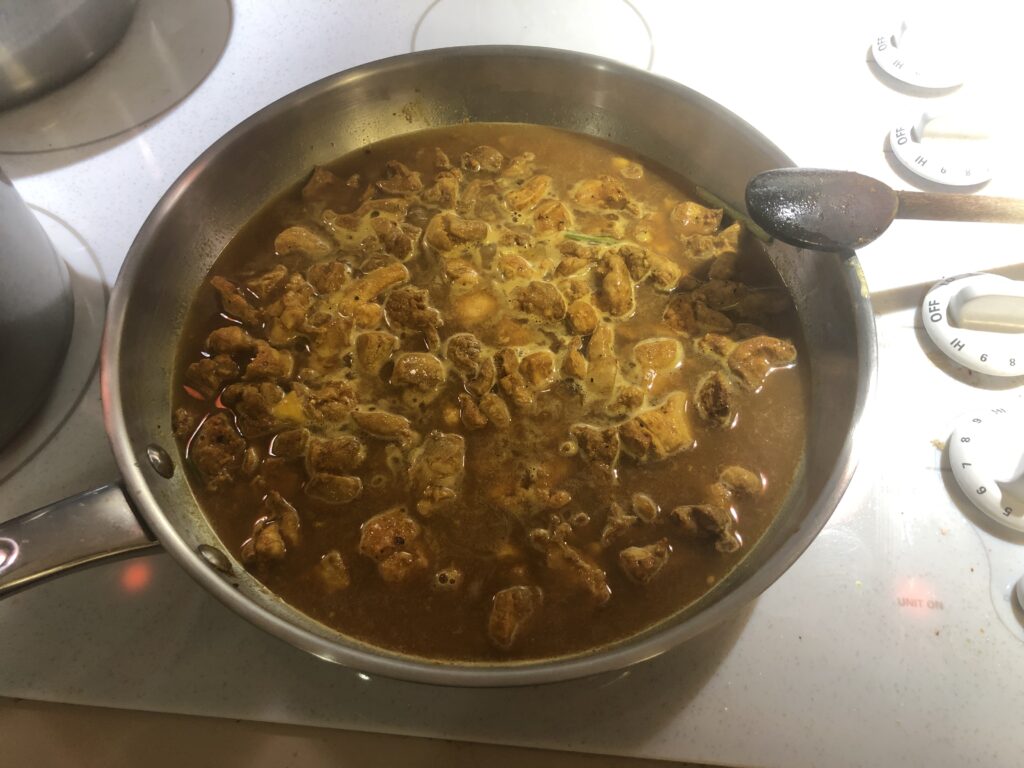 Chicken, garlic, crushed red pepper flakes, fish sauce, sugar, lemongrass, ginger and chicken broth all in the skillet. Can you smell it? Yum!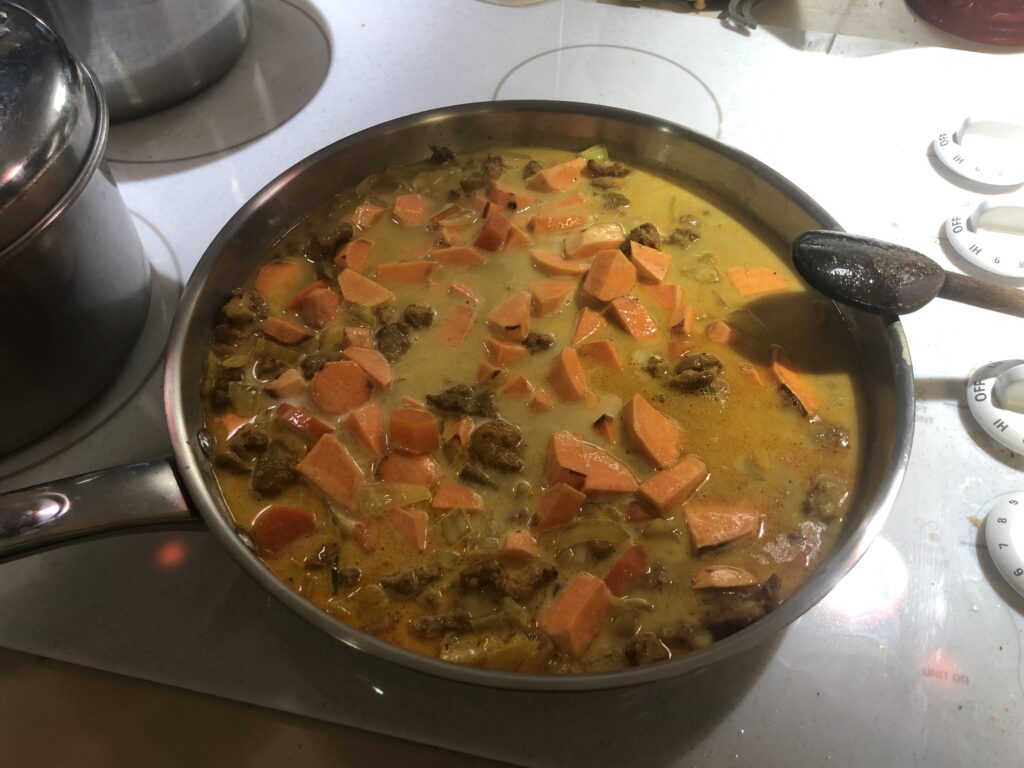 Carrots, coconut milk, onions, sweet potatoes and basil have been added. It's getting closer. The sauce thickened up nicely.