Let's spice things up in the kitchen this Fall with a great vegetarian dish.
Ingredients
2 Tbs cooking oil (I used peanut)
1 Tbs minced fresh ginger (or you can use 1/2 tsp ginger powder)
2 garlic cloves, minced (I used 4)
2 scallions (or green onions), white and green parts separated, minced
1 jalapeno pepper, seeded and minced (optional)
1 eggplant (prefer Asian style), medium diced
1 carrot, medium diced (I used 2)
1/2 tsp cayenne pepper
1/3 C peanut butter
3 Tbs soy sauce
1 Tbs honey
1 Tbs rice wine vinegar
1 pack of firm tofu, press out water and medium diced
1 C vegetable stock (I used plain water)
1 medium broccoli, cut into small bite size (I didn't have any)
salt and pepper to taste
Directions
Heat oil in large wok or skillet. Saute ginger, garlic, white scallion (whites of the green onion) and jalapeno. Add eggplant and keep sauteing for 2 more minutes or until eggplant it wilted a bit. add carrot and keep sauteing for 2 more minutes. Add cayenne pepper, peanut butter, soy sauce, vinegar and honey. Stir and add tofu and stock (or water). Keep stirring and slowly bring to boil. Adjust consistency by adding more peanut butter or stock (water). Finish by adding broccoli and adjust for taste with salt and pepper. Garnish with scallion greens. Serve with curry rice or steamed basmati rice. — Recipe by Paul Tseng, Willy Street Co-op Kitchen Sous Chef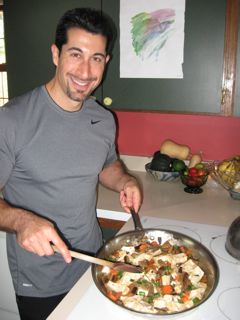 Voila! And dinner is served.