It was around this time last year (July 12th, 2012 to be exact) that I shared my wife's Blackberry Freezer Jam Recipe. Well Heather's at it again. Braving clouds of biting mosquitoes and vines with sharp prickles she filled a pail full of wild blackberries from our backyard. At about $9 a pound for organic blackberries, Heather said it was well worth it.
Now, what to do with them? Blackberries are great in smoothies, on top of my Hi Protein Pancakes or eaten plain. This time we tried a blackberry cobbler. Wait a minute, Eric. That's a dessert. True. And how do I always respond when asked if something is good or bad, healthy or unhealthy? It depends. In this case, it's about the ingredients and how you prepare them.
Fruit cobblers, crumbles and crisps have less fat and sugar than your typical pie crusts. And remember most of the sweetness and sugar comes from the fruit. We like our blackberry cobbler a little on the tart side so we didn't add as much sugar. Use the recipe below more as a guideline than strict directions. You may want to add more berries, vanilla or crushed almonds. It's up to you. Enjoy!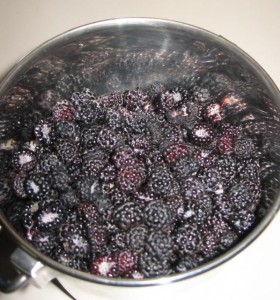 Ingredients
5 cups fresh blackberries
2 tablespoons granulated sugar
1/4 cup brown sugar
1/4 cup cold butter
1 cup quick-cooking oats
3/4 cup all-purpose flour
1 tablespoon cornstarch
1 tablespoon fresh lemon juice
2 tablespoons water
1 teaspoon ground cinnamon
Directions
Place blackberries in a greased baking dish. In a small bowl, combine the granulated sugar, cornstarch, water and lemon juice until smooth. Pour over berries. Combine the oats, flour, brown sugar and cinnamon. Cut butter into small pieces and add to dry mixture until crumbly. Sprinkle over berries. Bake, uncovered, at 375° for 20-25 minutes or until bubbling.