Stuffed squash is one of my favorite dishes, especially on a cold winter day. A great thing about squash is their hardiness. They will last quite a while indoors in a cool, dry place. So your fall squash harvest can be feeding you well into the winter.
The Crookneck Yellow Squash is similar to my Zuccanoes Recipe except that the skin is tougher. If you'd prefer, you can use the squash just as a serving vessel, or depending on how you prepare it, you can eat the skin as well. I did. It was a little fibrous but tasted good.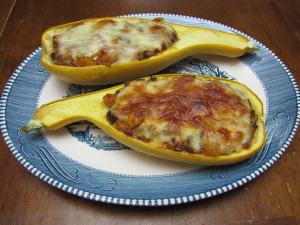 Ingredients
1/2 yellow onion, diced
2 cloves garlic, minced
1 pound lean ground beef, grass-fed (you can also use ground turkey, chicken, lamb or pork)
6 white mushrooms, sliced
1 8-ounce can diced tomatoes, fire roasted
flesh of one yellow crookneck squash, chopped (you can also use straight neck or a zucchini)
1/2 cup mozzarella cheese, grated (or your favorite melting cheese)
1 tsp dried rosemary
1 tsp dried basil
1 tsp dried thyme
salt and pepper to taste
2 tsp olive oil
Directions
Slice one squash in half lengthwise. Scoop out insides, leaving 1/4″ rim so canoe stays intact. (You don't want your canoe to sink in the oven. Very messy.) Dice the squash innards and set aside.
Set stove top to medium-high heat. To heated skillet, add olive oil then sauté ground beef. Once browned, add onions, garlic, mushrooms and squash innards. Sprinkle with rosemary, thyme, basic, salt and pepper. Cook 5 minutes stirring frequently. Add diced tomatoes and lower heat. Simmer for additional 5 minutes. Remove from heat.
Set oven to bake at 350 degrees. Take meat/vegetable mixture and spoon into canoes. Do not overfill. Top with 1/4 cup mozzarella cheese. Bake for 45 minutes.
Sprinkle with remaining 1/4 cup grated cheese and serve.
Preparation time: 1 1/4 hours, including baking. Serves 6