The first time I recall eating farro I was grocery shopping at Willy Street Co-op. Next to the produce section they were offering samples of farro with goat cheese in little white paper cups. It had a wonderful chew to it. Nutty. Filling. I was hooked. Since then, it has found its way into our pantry along with quinoa, bulgur, lentils, chickpeas, split peas and several different types of rice.
At a recent potluck a friend brought a homemade Farro Salad. It was so delicious that her serving bowl was empty in under an hour. Below is the recipe which she got from Food52.com. Enjoy!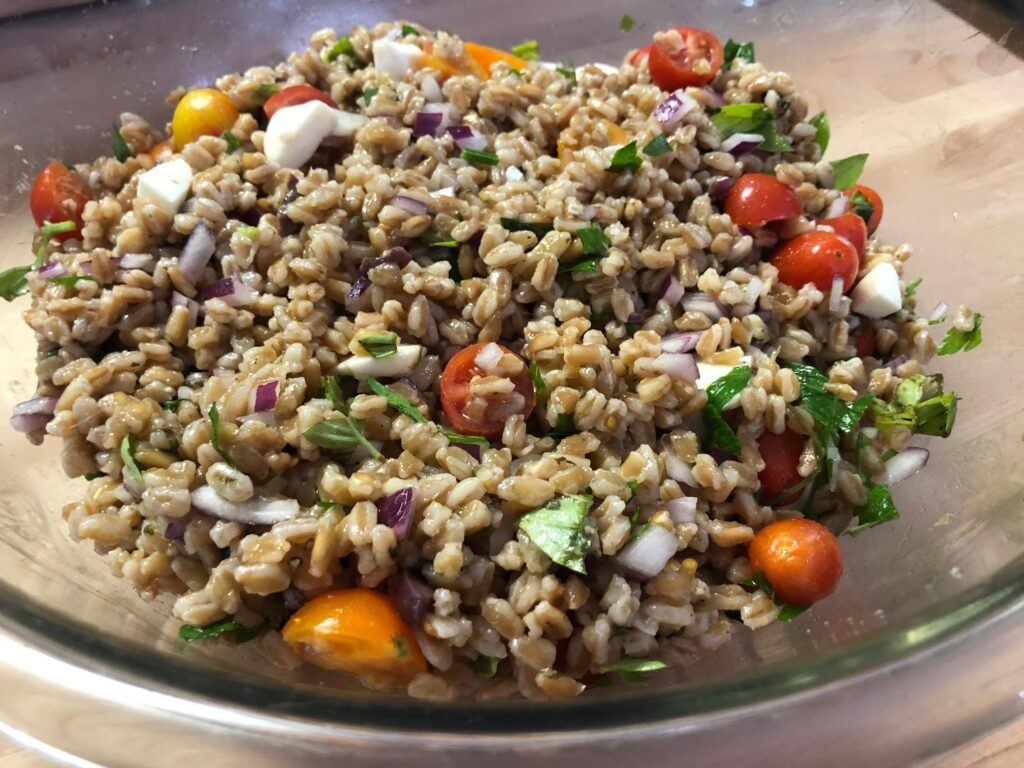 Ingredients
2 cups

uncooked farro (or substitute barley)

1

medium red onion, cut in half

1

clove garlic

1 handful

fresh parsley plus 1 tablespoon finely chopped
1/2 teaspoon salt (add more if needed)

1 cup

diced (about 1/4″ cubes) fresh mozzarella cheese

2 teaspoons

minced pitted kalamata olives

1

pint grape tomatoes, halved

1 tablespoon

finely chopped fresh basil

1 pinch

freshly ground pepper, to taste

1/4 cups

extra virgin olive oil

1 teaspoon

balsamic vinegar

1 tablespoon

red wine vinegar

2 teaspoons

honey
Directions
Add the farro, one onion half, garlic, handful of parsley and salt along with 2 3/4 cups water to a 2 quart pot. Bring to a boil, then cover, reduce to a simmer, and cook for 10 minutes. Turn off burner and let sit, covered, for 5 more minutes. Discard the onion, garlic and large pieces of parsley. Spread out on a rimmed sheet pan and let cool completely (do not skip this step or the mozzarella will melt into the finished dish).
Whisk together the olive oil, vinegars and honey to prepare the dressing. Chop the remaining onion half finely. Add onion, cooled farro, mozzarella, kalamata olives, tomatoes, remaining tablespoon of parsley and basil to a deep bowl. Pour the dressing over the ingredients and stir well to combine, using a long wooden spoon or rubber spatula. Season with salt and pepper. The salad is ready to serve, but can also be made and stored in the fridge, covered, one day ahead.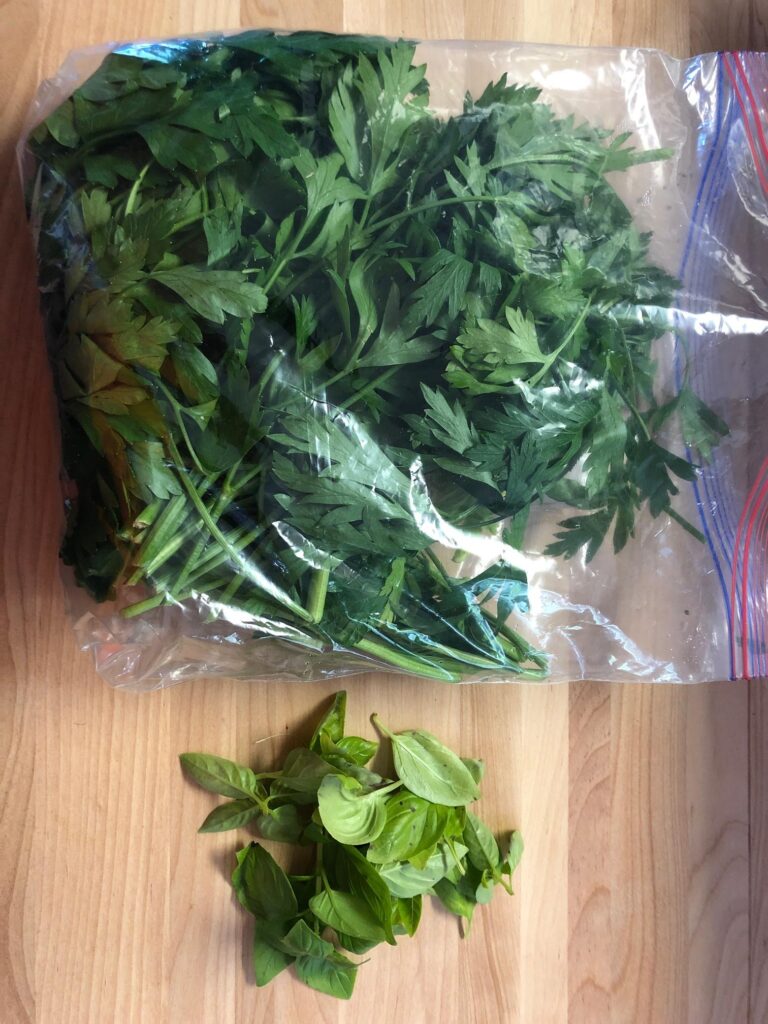 Parsley and basil straight from the garden.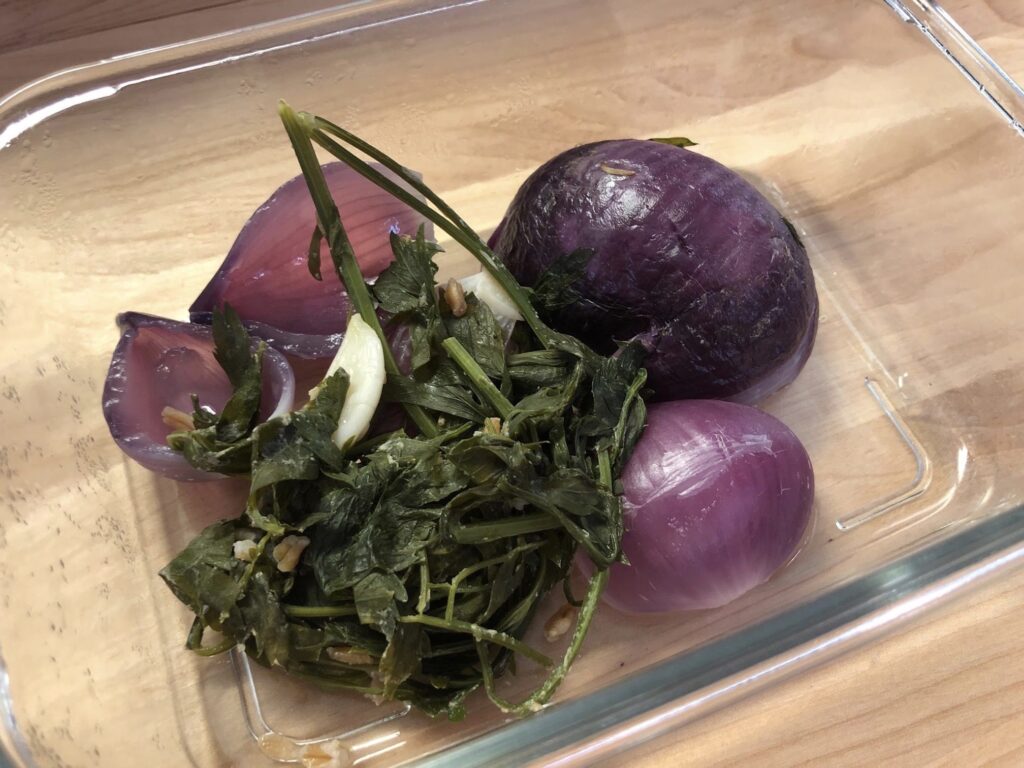 Here is the onion half, garlic and handful of parsley that we removed from the farro. We saved it for another dish.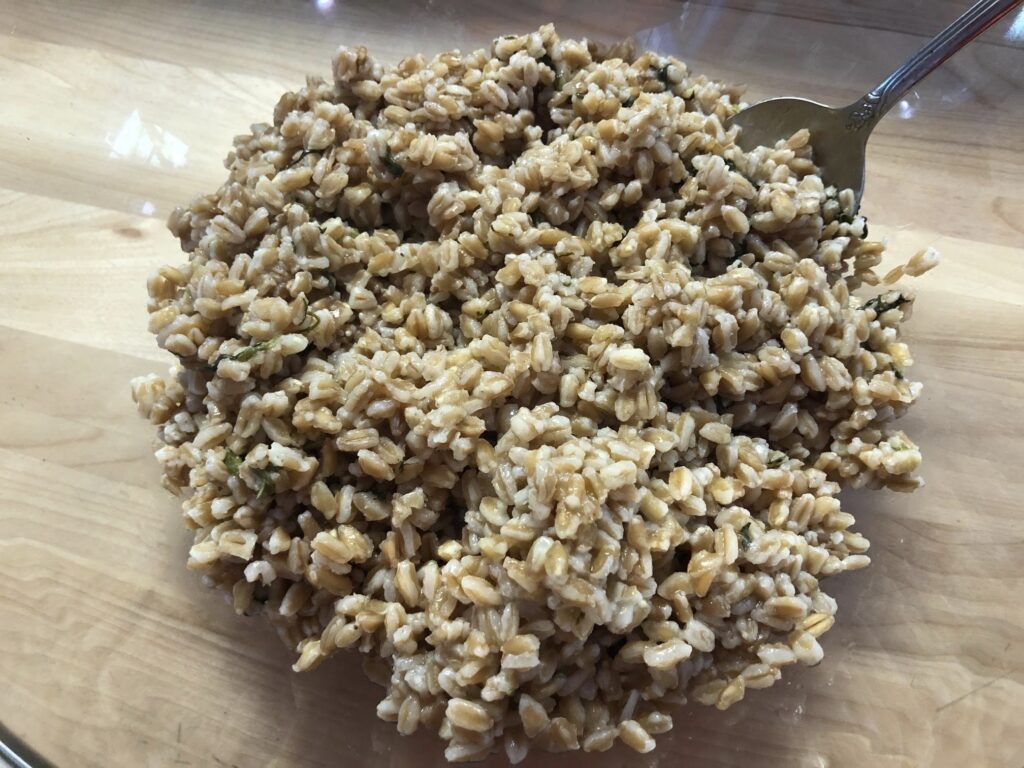 Cooked Farro looks lonely without the other ingredients.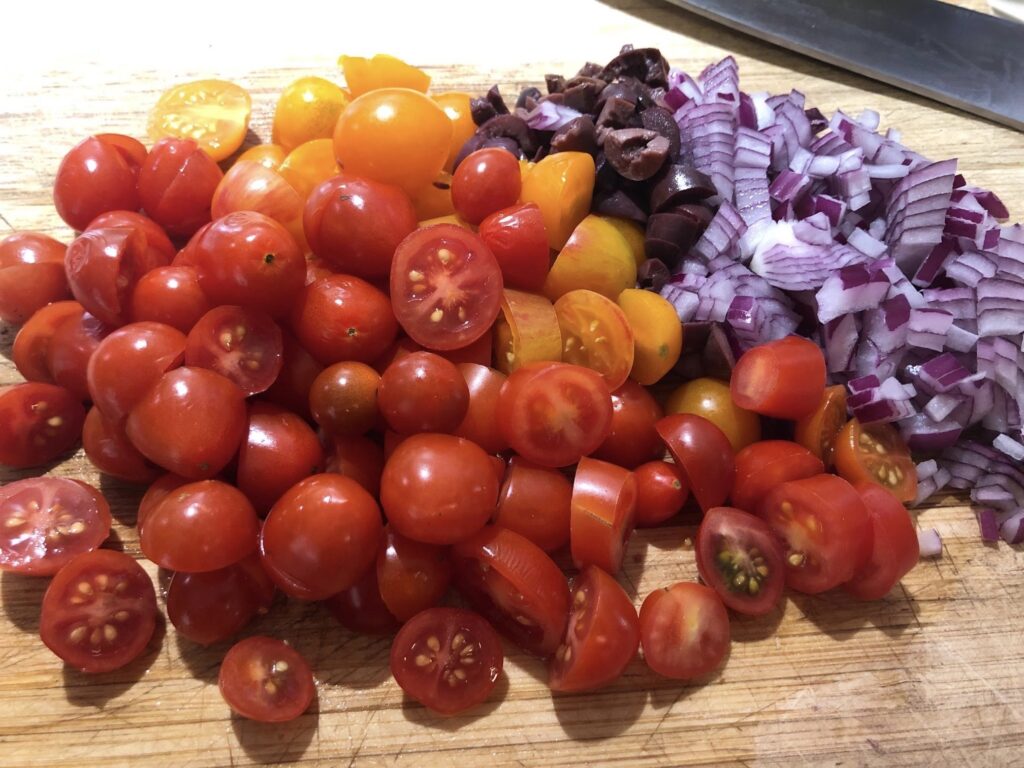 Chopped tomatoes, olives and red onion.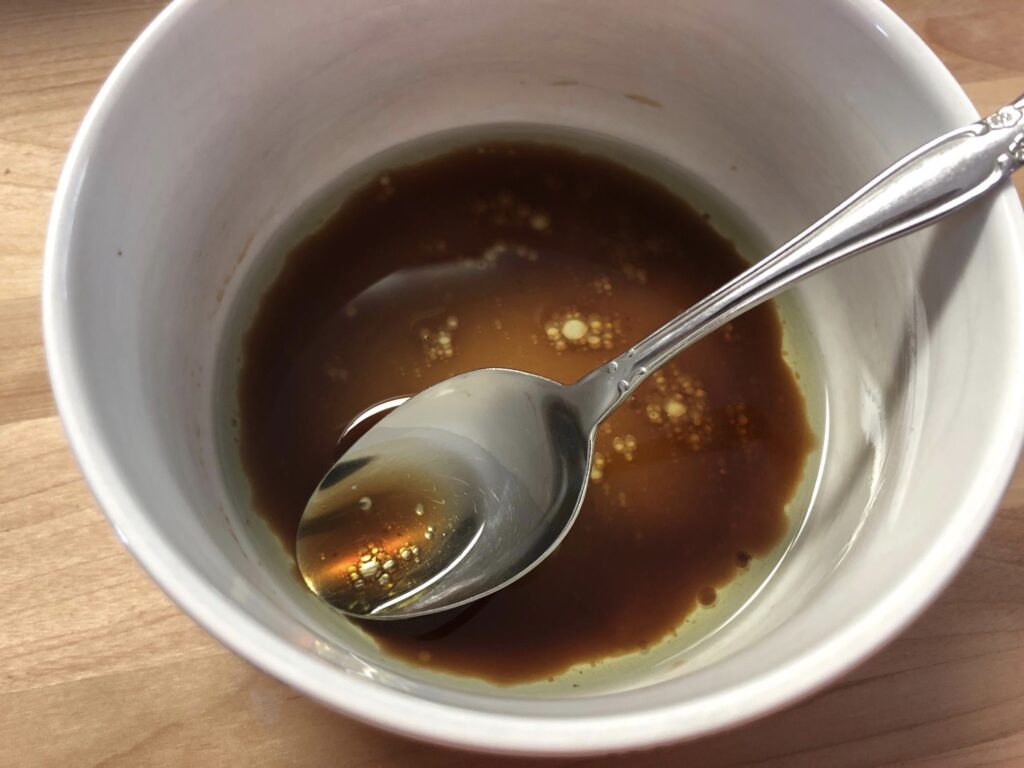 Olive oil, vinegars and honey.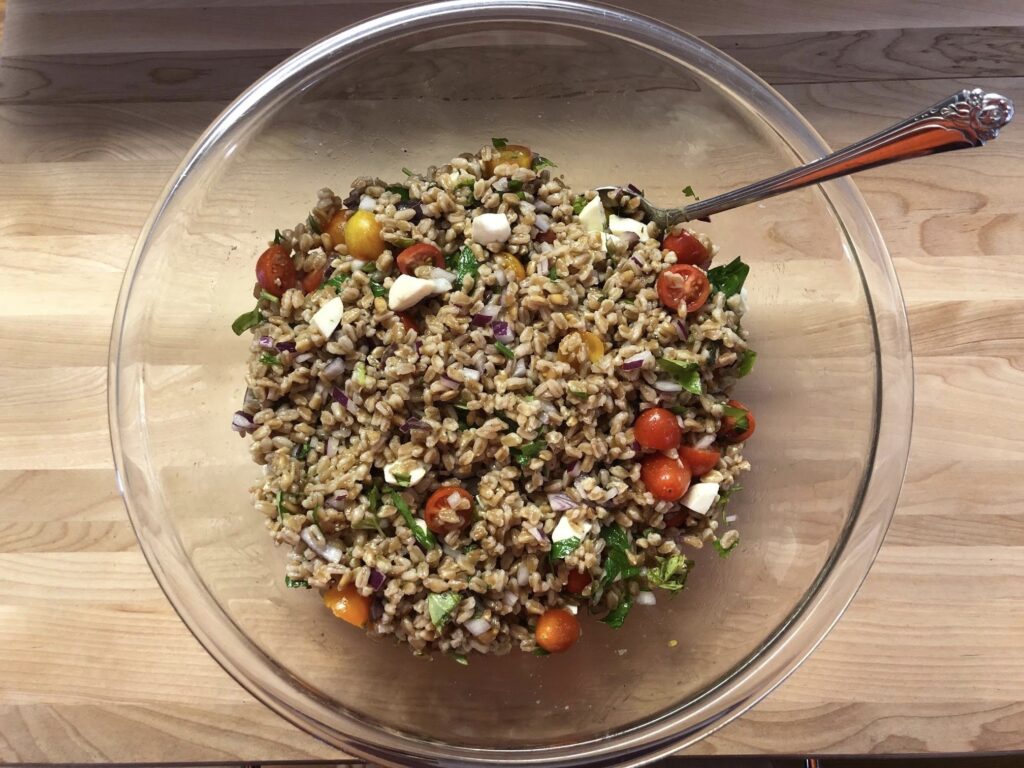 Everybody in the pool. Ready to serve and eat.